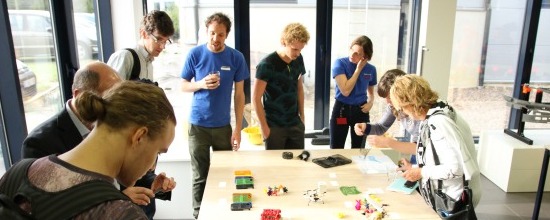 Don't Miss Out This Year's Last Chance to Join an i.materialise Meet-Up
by Yui Takahara | October 14, 2014
A big thank you to all the attendees who visited Materialise headquarters in Leuven last Friday. It was another exciting and successful meet-up! If you couldn't make it this time, there's still one more chance to join us at an i.materialise meet-up this year. Come join the community of 3D Printing enthusiasts on Friday, December 5!
i.materialise meet-ups are free events designed to help 3D Printing fans get connected, share experiences, and get advice on their projects from our team of 3D Printing experts. Designers, makers, entrepreneurs, hobbyists, and artists – anyone curious about 3D Printing is welcome to join. During the meet-up, we'll explain our 3D Printing services and provide you with a guided tour of the largest single-site 3D Printing facility in Europe. You'll also have a chance to see and touch various 3D Printed products in all 17 materials we offer.
Our next meet-up on December 5 is now open for registration. Sign up here to secure your seat!

WHERE
Materialise NV
Technologielaan 15, 3001 Leuven
WHEN
Friday, December 5, 2014
14:00 – 18:00 (Central European Time)
PROGRAM SCHEDULE
•             Welcome
•             Presentation about i.materialise services: What Can We Do for You?
•             Production site tour
•             Check out different materials
•             Coffee/Tea & Chat