Customized 3D printed FrisMe
by Joris | October 13, 2010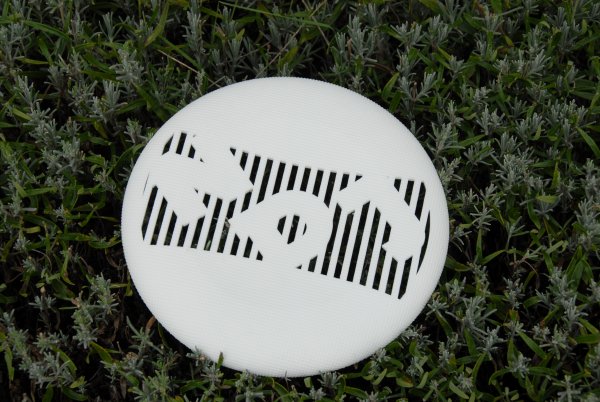 The FrisMe is the world's first 3D printed flying disk. The FrisMe is completely customizable. You can design it exactly according to your specifications. This unique design item uses cutting edge production techniques to bring you design freedom. Choose a texture, add letters, add your own design, add custom elements to it, with the FrisMe anything is possible.
If you desire your own FrisMe, send an email to joris (at) i.materialise.com and I will set up a phone appointment so we can discuss your FrisMe customization needs. A standard FrisMe would be $215. A customized FrisMe with your initials and your choice of texture would cost $230 including shipping. A FrisMe designed completely for you costs $310 and up. Extras such as silver, gold or chrome plating or custom hand painting are not included in this price. A Scan FrisMe which will be designed acording to a 3D scan of your hands costs $1300 (cost of visit to Leuven Belgium not included).
Video of us playing with the FrisMe below.

The FrisMe is 3D printed on an EOS p700 Selective Laser Sintering machine in Polyamide and measures 25 by 25 by 2 Centimeter. Handfinshed with care. Made in Belgium.
Should you have your own 3D printer you can download the Frismee 3D file here from Thingiverse. We"ve shared the basic design including texture under a Creative Commons Atrribution, noncommercial license.
The Frisme was inspired by Dave Eggers and The Pub Agency. Concept by Joris Peels. Design by Nicolas De Jaegre.