Calling All Makers! Create Ideas Worth Making and Contribute to Innovative Educational Tools
Do you believe that 3D Printing can add value in education? Are you a 3D printing enthusiast? Do you like helping others? Create Ideas Worth Making and enter for your chance to win amazing prizes!
In the most recent Ideas Worth Making challenge, teachers were asked: ''Imagine you have a 3D printer, how would you use it to make education more engaging?" The teachers had no shortage of ideas – an overwhelming 308 creative and educational responses, all of which are now collected on our Ideas Worth Making platform.
Now, Ideas Worth Making challenges makers like you!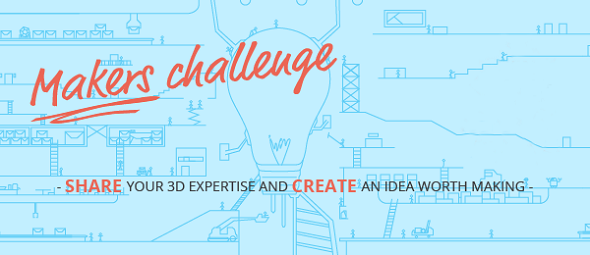 Teachers need your help to make their ideas a reality. Do you want to lend your skills in 3D modeling to give education a boost? With your help, teachers will have the tools to educate children in ways that once seemed only within reach by the imagination.
How to participate:
Interested in making a difference by creating and 3D Printing Ideas Worth Making? Here's how you can participate:
Discover all the ideas on Ideas Worth Making and choose the one you want to model. If you want, you can contact the idea creator by leaving comments on the idea page.
Help the teacher by creating a 3D model for their idea.
3D print your model, for example by using i.materialise as a printing service. Make sure that your model is also printable on a desktop 3D printer.
Prizes:
Entries received between March 13 and May 25, 2015 will be considered for judging. A professional jury will carefully select the winning 3D model based on the quality of the 3D model and the resulting 3D print. Creative solutions to realize an idea will earn extra points so don't hold back!
All entrants that successfully realize one of the Ideas Worth Making will have the chance to visit Materialise HQ for a co-creation brainstorm and workshops session. Check the Ideas Worth Making website for further information.
On top of simply contributing to innovative educational tools, to give you an extra motivation, they're giving away a MiiCraft+ DLP 3D printer to one lucky maker!
Ready to get started? Discover more here and submit your entries before 25 May 2015!
Recommended Articles
No related posts.