Brussels Girl Geek Dinner #19
by Franky | November 25, 2009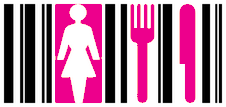 Last week, our colleagues at .MGX hosted the 19th edition of the Brussels Girl Geek Dinner. Girl Geek Dinners are events for females who class themselves as girly and geeky. Girl Geeks have a keen interest in technology and enjoy the networking aspect of the events, which are always light hearted and fun. You can read all about past and present Girl Geek Dinners on their official blog. The topic of the #BGGD19 (as referred to on Twitter) was "How to grow design by using 3D technology".
Due to heavy traffic, only 30 out of 60 girl geeks managed to get to Materialise HQ and therefore turned this into a very exclusive Girl Geek Dinner. It was great to see how everyone interacted about the event on Twitter, which is typical for a Girl Geek Dinner. I felt quite privileged to be there, since men are normally not allowed on these events. Luckily, I work here. Three speakers were scheduled for the night. First there was Ward Callens, Director of the .MGX Division. He introduced the company Materialise to everyone and spoke about the .MGX division and how our 3D printing technologies create the wonderful .MGX design products. My colleague, Martijn Joris, Business Developer at i.materialise, introduced our brand new online 3D printing service. His presentation can be viewed on SlideShare. Finally, Dominique D'Heedene (@designarenas), an IT-architect with a passion for design, presented DesignArenas, an e-tailer specializing in bringing hotel luxury and lifestyle at home. Dominique's company partners with luxury and design hotels, build collections of interior design articles used in the partner hotels and builds a compelling visual experience through the webshop. Her 6 online shops offer design and luxury products that can be found in the partner hotels and "bring hotel luxury home". Those also include a lot of .MGX design products. Dominique also put her presentation on SlideShare.

Girl Geeks never leave a Dinner empty handed. When a girl attends a Girl Geek Dinner, she always receives a goodie bag which is part of the concept. After the presentations, Dominique organized a small contest on Twitter to see who had been paying attention during the presentations. Apparently everyone did, but a few lucky winners managed to add something extra in their goodie bags: @bizz_y_bee won the Sway glasses (@designarenas), @roningirl one of the Shaman.MGX necklaces, @Ploempje the beautiful Ratio.MGX lamp and we were happy to gave away 2 customized i.materialise bracelets to @karen18 and @Gudrun. The result of these unique bracelets will be posted on our blog when they are ready.
To end the night and a great event, we showed the .MGX showroom and guided our audience through the production facilities, where they could really experience the different 3d printing technologies. I could read on Twitter that "3D printers actually look like big web servers, like the ones in a server park except that these machines grow objects #bggd19 (via @bnox)".
After the event, it was great to read that someone called it "one of the most impressing Brussels Girl Geek Dinners ever". Thank you for visiting!