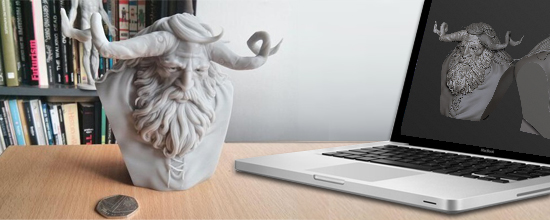 Bringing a Game Character to Life with 3D Printing: Interview with James W. Cain
by Yui Takahara | June 17, 2014
When James W. Cain tweeted a picture of a 3D Printed sculpture portraying Ubin, a character from The Banner Saga, it simply blew our mind. As one of the comments so succinctly stated, "Beautiful work! Really impressed with quality of the printout. Looks so crisp", it was easy to fall in love with this impressive piece of 3D Printed art. Recently, I had a chance to interview the designer himself and get the story behind this magnificent 3D Printed sculpture.
My fanart sculpt of Ubin from #thebannersaga just came in the post courtesy of @imaterialise #3dprint @StoicStudio pic.twitter.com/DOZAMGdzR7

— James W Cain (@JamesWCain) May 9, 2014

Expressing your inner fan
James W. Cain is an England-based graphic designer and illustrator but, as he explains, "I became interested in fan art only recently. Fan art is a good opportunity for fun projects that help me learn new techniques and software. It's also great to connect with fellow fans of the subject and meet other artists." This new sculpture certainly connected him and the 3D Printing enthusiast community. And surprisingly, he only started learning to design in 3D a year and a half ago! He explains, "the learning curve is quite steep but rewarding!"
James started his experiments in 3D Printing with small objects like cufflinks and eventually moved on to larger projects. "I had a very good response from a series of my sculpts based on the game Dishonored and decided to look into the possibility of 3D Printing one or more. My first large print was from i.materialise in polished white polyamide, I was really impressed with what could be achieved! There is nothing quite like physically holding your own work that has only ever existed on the screen."
The delicate art of going 3D
Ubin from The Banner Saga is an old, wise character that's lived for hundreds of years and serves as a narrator early on in the game. This character presented James with a real challenge. When asked which part was the most difficult to design, he answers "The horns! It's always difficult to translate a 2D drawing into 3D, especially when heavily stylized as in the case of The Banner Saga. His beard in the 2D artwork is a good example and when it came to sculpting, I found it very tricky to represent faithfully. In the end I approached the sculpt as 'my take' on the character, and this was more fun!"
The sculpture was 3D Printed at i.materialise in prime gray. The smooth surface of this material was the best choice to capture the fine texture of Ubin's horn, hair and beard.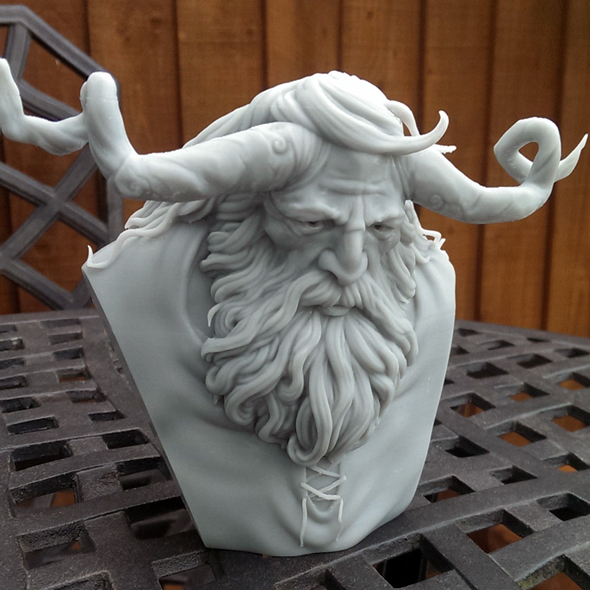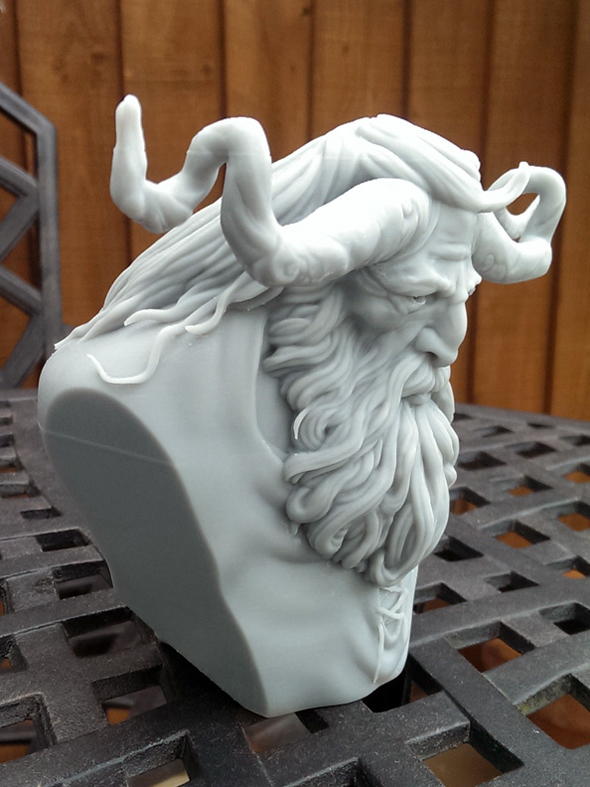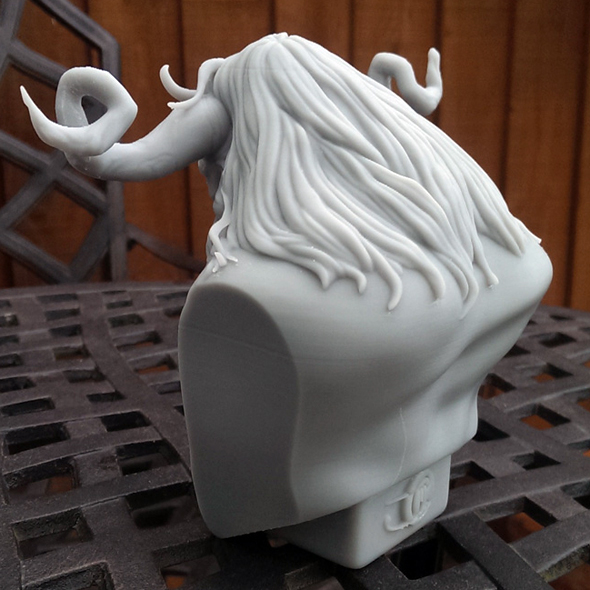 A bookshelf full of inspiration
In addition to being a 3D artist, James turns out to be quite a book worm. His source of inspiration is his eclectic bookshelf, which includes the work of illustrators like Mike Mignola, Ashley Wood, Dave McKean, and Nathan Fox, as well as more traditional artists such as J. W. Waterhouse, Gustav Klimt, Ilya Repin and Francisco Goya. James is also a big fan of Alan Fletcher: "I always find myself going back to his book The Art of Looking Sideways."
So where is James heading from here? His next project will be "a series of sculpts based on the replicants from the movie Blade Runner. At some point I would also like to concentrate on developing my own ideas for characters and illustration." If his projects to date are any indication, these sculpts are sure to be a fan favorite!
Follow James on his blog, Twitter, Pinterest and Google+, and never miss the next big thing!