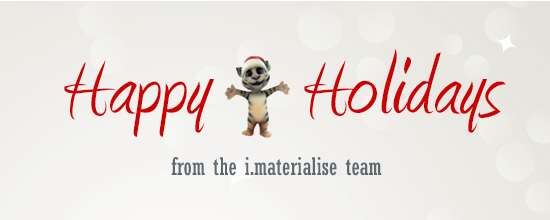 Brighten Up Your Holiday Season With 3D-Printed Gifts
by Jon Cooper | December 7, 2021
Whether it's a gift with an extra personal touch or a decoration for your tree that you just won't find in shops, there's plenty to inspire you right here on i.materialise. We've dipped a toe into that pool of creativity to bring you some of our favorite ideas in our very own holiday season gift guide.
The lights go up. The sweaters go on. You fondly remember that Michael Bublé exists. It can only mean one thing: the holiday season is here again. It's a wonderful time of year, filled with friends, family, and of course, a thoughtful gift or two. This year, you can make it more special, unique, and fun than ever by combining it with your love of 3D printing. Just take a look at some of these incredible designs to get you started.
Deck the halls in whatever you want
Tired of tinsel and shiny metal balls? Probably not — it's hard to beat a classic, after all. But you can definitely add something new to your festive set-up. Take this beautiful Quin Ornament by Bathsheba Grossman or the subtle Snowdrop designed by Mueller Gorenko Design Consultancy and Moritz Heimrath, for example. Maybe add a dash of color with the bright, twisting design of the Christmas Ball by Luca Corradi, or have your decorations tell a story all their own with Felix Gfeller's Small Winter Tale.
Gifts you can wear
Whether you prefer to dress up or dress down over the holidays, 3D-printed wearables can make for a great gift. Feeling traditional? Jewelry is always a popular option, and because you can print in a wide variety of shapes, sizes, and materials, there's bound to be something for every taste.
There are plenty of possibilities for those who appreciate the fashionable things in life, too. Quirky belt buckles, beautiful headpieces, and stunning brooches are just a few of our favorites from this list.
Wrap it in style
Gifts are great, of course, but why stop there? Going all out with some spectacular wrapping can make for a wonderful surprise. We love the idea behind this Gift Capsule Skewb by Oskar van Deventer. A twisty puzzle that doubles as a gift box? Sign us up — especially if you plan on filling it with more 3D-printed goodies.
Make a house a home this holiday season
The right piece of home décor is the gift that keeps on giving, and the best thing about it is that everyone can enjoy it. Whether it's a brand-new centerpiece to brighten up the kitchen table or a beautifully crafted 3D-printed lamp to brighten up everything else, you can really let your personality shine through.
Do it your own way
Of course, no gift is more unique than one you design or build yourself. If you're on the hunt for a little extra help, inspiration, or motivation before you bring your ideas to life right here through i.materialise, we've got you covered. Take a look at our helpful beginner's guide, design guides, or head on over to the i.materialise forum to chat with other 3D printing fanatics.
Finally, from all of us here at i.materialise, we hope you have a wonderful time this holiday season and wish you all the best for the new year. We can't wait to see what amazing designs you come up with next.
Feeling inspired?