Announcing the Top 20 of the Hats off to 3D Printing Challenge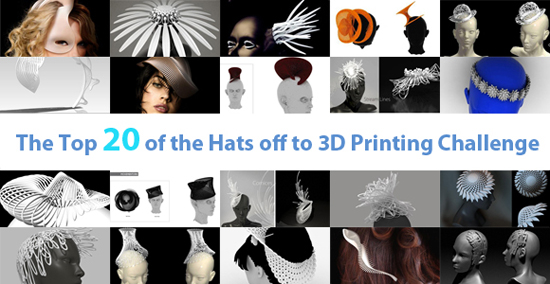 After a very successful design challenge with loads of very talented participants, the jury that's chaired by Elvis Pompilio has come to a collective decision on who has made it to the top 20. This was quite a tough call as there were so many great entries, but at the end of the day we had to make a decision.
The Top 20 list can be found below:
By Saad Alayyoubi
Seduction Hat
Allure Hat
By Mark Bloomfield
Daisy
By Jennifer Loy
Alisa's Curls
By Alexander Shinolov
Twig
By Raf Verheyen
Stringcap
By Kiran Gangadharan
Movementor 16
Movementor 13
Movementor 5
By Dario Scapitta
Butterfly Hat
Coupe de Coeur Bombetta

By Song Bowen
Cornices
Stream Lines
By Kristo De Pooter
Twisting Chaos
By Eliana Santoro
Renaissance of the Lotus
By Silvia Roxana Palfi
Twist
Möbius Hat
By Siddhesh Naik
Sunflower Hat
By Sean Roberts
Mazes
By Wies&Els and Minimaal – Mark Plas
Fragile
A big congratulations to the Top 20 and as usual we'd like to thank all of the participants for their lovely entries. If you didn't see your design amongst the Top 20, don't worry as we'll continue to have more design challenges through the year. As for the announcement of the winner of this challenge, we're all gonna have to wait until the 18th of April: the day the Top 20 designs go down the runway at the Materialise World Conference. The winner and runner-ups will then be chosen by the present jury chaired by Master milliner Elvis Pompilio.