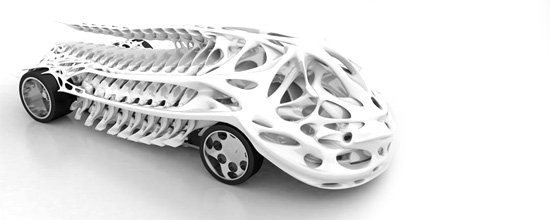 And the Winner of the Slot Car Challenge is…
by Franky | February 21, 2014
Brian Hamilton with 'Arthropeda' which is, according to the designer, primarily inspired by the morphology of the earliest known group of extinct arthropods that form the class Trilobita. Although the design of 'Arthropoda' is seemingly paradoxical, the concept of merging the physical structure of a prehistoric creature with the bold, aerodynamic styling of a modern-day supercar resulted in a form that appears evocatively symbiotic.
Brian's design will be 3D printed in polyamide (natural white) and make its first appearance at RAPID 2014 in Detroit 'Motor City', Michigan. Our parent company Materialise is organizing a series of races for slot cars made with 3D printing technologies, to be held at AM events worldwide throughout 2014. As the winner of i.materialise challenge, Brian is free to race his own 3D printed slot car at one or more of these events. For now RAPID 2014 and EuroMold 2014 are confirmed.
Slot car racing is racing with miniature cars on a track. An electrical engine powers the cars. The motor is connected to a guide that is positioned under the chassis of the model. To the guide are copper braids connected and is positioned in a slot in the middle of parallel rails. The slot car gets speed if the driver gives power to the rails by means of a hand held controller.
If racing wasn't completely up your alley, we are currently running a drone design challenge.