A Very Special 3D Printed Wedding Ring
by Vanessa | July 29, 2011
There are few objects in life more valuable or emotionally meaningful than a wedding ring. Imagine then, how amazing it would be to be able to design the perfect wedding ring for someone you love! Thanks to some help from i.materialise, Ann Marie Shillito did just that by designing a gorgeous titanium wedding ring for her daughter Keri. And, here is her story:
When 'things' come together, perfectly timed, the outcome can be so gratifyingly fantastic.
How wonderful then that I have been able to give my elder daughter a most precious gift, one that is a culmination of my knowledge and making skills, and is her wedding ring. 'Things' came together perfectly timed to enable this to happen.
This all began at the end of December 2010 when Rob proposed to Kari, my daughter, and she wanted a specific engagement ring, similar to one I had designed and made a number of years' ago. This original engagement ring was in titanium, machined and then hand carved to flow around an oval diamond in a gold setting. For a couple of reasons it would have been difficult for me to remake this ring. Fortuitously, in January this year, i.materialise announced their new service – 3D printing titanium and when I mentioned this to Kari and Rob as a way to make the ring they were both all for it. Personally, this is just perfect as I am a 3D print evangelist (since going to Stuart Devlin's Master class held at the Worshipful Company of Goldsmiths in London in 1990) and I now run Anarkik3D, a company that has developed a haptic 3D sketch modelling package, Cloud9. With this combination – organic modelling using Cloud9 and 3D printing titanium – the design could be a super fluid titanium wedding ring that flows around the diamond of a gold engagement ring.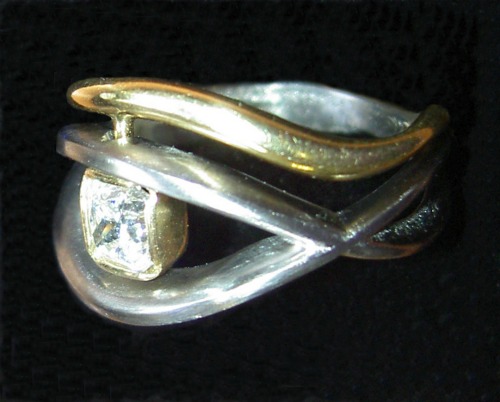 With the general concept approved, my daughter and I had a great time in London's Hatton Garden looking at possible diamonds before she and Rob went to choose. They settled for a beautiful square corner cut one. As I am not a 'proper jeweller' ('proper' ones work in gold and precious stones, I am told!), I worked with jeweller friend, Teena Ramsey, on ideas to get the designs for both the engagement and wedding rings to be an elegant integrated set.
The next stage included a number of steps:
designing a test ring in 3D using Anarkik3D's Cloud9 package
getting it 3D printed in steel for Kari to see and try on (to get the ring size right)
designing the set in Cloud9 (with the engagement ring 'set' with an accurate digital diamond, created and imported from Rhino) to email as a 2D image to Kari and Rob for approval
finalising the designs and saving the rings in .stl format
3D printing prototypes in ABS (polymer) to check the ring size, how they slot together, the .stl files and have prototypes for Kari and Rod to handle.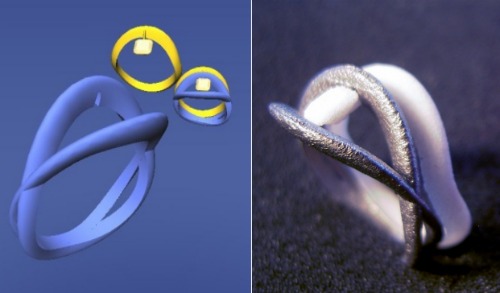 Left: Screen capture of designs from Cloud9 for approval.  Right: 3D printed titanium wedding ring (with prototype engagement ring in ABS)
With all this checked and approved the .stl file of the wedding ring was sent through to i.materialise and in 2 weeks I had the raw titanium ring to start working on! I gave Teena the ring and diamond, we sorted out Rob's wedding ring and ordered the gold. Finally with the engagement ring made and set, I finished the wedding ring. They fit together so it looks as though the diamond is floating within the flowing titanium bands.
Kari and Rob were married on the 25th June, mid-summer, in a beautiful setting in the Scottish countryside. It was a perfect day and such a lovely couple.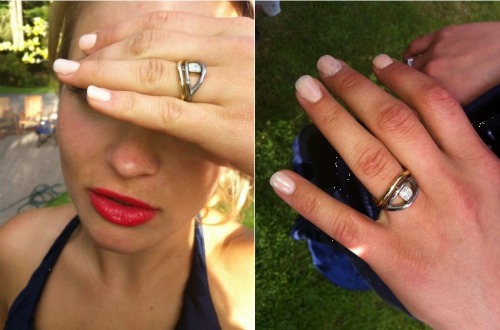 'I have been so lucky growing up with a jeweller as my mum, from walking through the front door after school to the fond and familiar sound of her hammering away in her workshop to her making my wedding ring using a 3D computer programme! What an interesting life my sister and I have had. Mum, having made my wedding ring has given us a unique and special gift and our rings are now all the more precious to us.' Kari
Photos of ring and development: Ann Marie Shillito, Anarkik3D, Edinburgh
Photos of the rings on Keri's finger: Jana Ramos