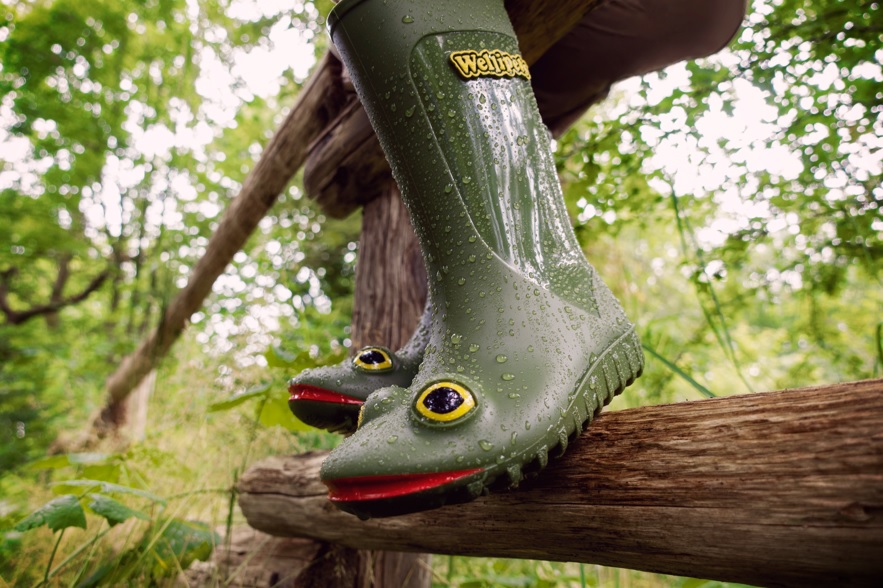 A Trip Down Memory Lane: How 3D Printing Is Bringing 80s Rain Boots Back
by Cecilia | September 8, 2021
The 80s were a decade of bold style, colors, and shapes — and iconic rain boots. For years, boys and girls from all around the world had fun during wet weather with Wellipets, a rain boot in the shape of Ribbit, the frog. Today, Wellipets have been entirely reinvented, from the fitting process to becoming a fully sustainable brand. All made possible with 3D printing technology.
 The history of Wellipets
Founded in the United Kingdom, Wellipets was the first rain boot ever to mix the traditional wellington rain boot with a playful design element. Being the first to bring this unique concept to the world all the way back in the 80s, it became a widely known and popular rain boot. Even Princess Diana herself dressed her children, Princes William and Harry, in Wellipets on numerous occasions. However, over time, the shoes got forgotten and weren't available on the market for over 15 years.
Today, familiar with the unique story of the Wellipets, the STONES and BONES team decided to leverage their 50 years of experience to revive this iconic brand to its former glory.
Now, completely adapted to today's environmental needs, both the rain boot as well as its business model are completely circular. Wellipets will be 100% produced in Italy with top-quality materials giving the boots a longer lifespan and a perfect fit. Furthermore, both the production facility and its suppliers, e.g., insoles, recycled boxes, raw materials, are located very close to its Italian facility to achieve a short supply chain with minimal impact on the environment.
"Through our smart design, we can now recycle the rain boots in the same facility where we make them," explains De Vreese, owner of the brands. "We give them a second, third life — or even beyond — through our secondhand sales, take-back initiative. It's only when they are truly worn out that we recycle them internally. This results in a completely circular business model and even a 100% recyclable product. Taking full accountability for every product we make is key in our Wellipets philosophy."
Using 3D-printed prototypes for shoe manufacturing
Because of the unique and organic shape of the boots, creating a prototype in the traditional manufacturing way was very expensive and time-consuming. That is why STONES and BONES decided to partner with Materialise to develop Wellipet's prototypes. "It's easier to visualize and create organic structures with 3D-printed prototypes compared to a more traditional process. As a bonus, it's also helping us to fulfill our wishes of creating a circular product by shortening the supply chain."
When it comes to working with Materialise, the Wellipets team says they could not be happier to work with a company that has a deep commitment to sharing its unique knowledge and know-how. On top of this, Materialise's dedication to the environment was also a valuable factor for the cooperation: "To create our prototypes, we used the PA 12 material, which is a powder recycled after selective laser sintering. We even tried getting it done on the new Bluesint PA 12, made of 100% recycled powder, but back then, the material was still in its beta testing phase. So, for our future endeavors, we know where to go for both quick and ecological prototyping."
Discover how 3D printing can improve your business or get started today by uploading your 3D designs to i.materialise.