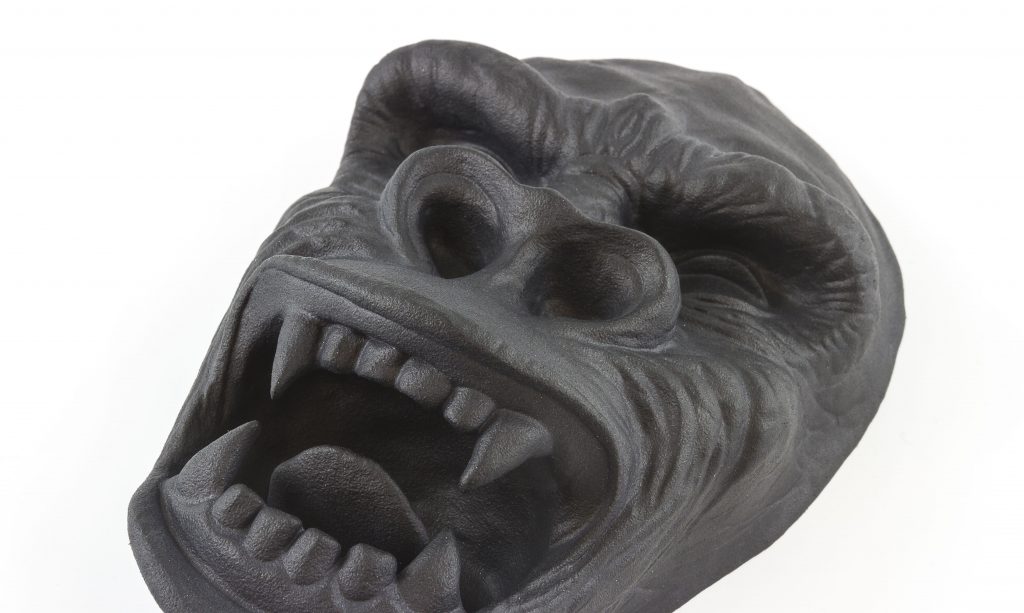 From a Clay Sculpture to a 3D Print with 3D Scanning
by Aura | March 28, 2018
Working in such a dynamic sector like 3D printing, it's normal that the members of the Materialise team are always exploring the creative side of 3D printing and discovering all its possibilities.
This story is a good example of how we use every excuse to get creative with 3D printing.
Are we obsessed with 3D printing? Maybe, but it's just so much fun!
Steven Demot works as a multimedia designer at Materialise, and creates art in his free time – most recently with clay modeling. When his fantastic creatures were noticed by product development engineer Nils Faber, he put his 3D scanning and 3D design knowledge and skills to work and made the 3D magic happen.
 From drawing to 3D print
Steven has always drawn fantastical creatures and aliens. A few months ago, he decided to turn his 2D creations into 3D and started sculpting in clay. For this purpose, he chose the design of a big gorilla.
Nils scanned the clay figure with a professional 3D scanner and made the first designs of the 3D model using Materialise 3-matic software. After the scan, the file needed to be fixed for 3D printing and the resolution was reduced. By lowering the quantity of triangles to 1/10th, it is possible to reduce the resolution without losing quality.
"Then, I added hair to the model with Blender and in the first iteration I could comb and cut the hair like in real life. I just wanted to try how it looked like and it was so much fun!", explains Nils.
Once the model was 3D scanned and fixed it could be handled easily for any purpose: 3D sculpting, painting or uploading for sharing when working in a team or with friends. Nils played with the design by adding some hair to the Model, with stunning results.
I added hair to the model  and in the first iteration I could comb and cut the hair like in real life. It was so much fun!
The final design was 3D printed in Polyamide (MJF) and dyed black. The material was perfect for showing the fine details of the gorilla's face.
Look at this detailed 3D print!
Tips for 3D scanning when 3D printing
3D scanning an object is the fastest way to turn a real object into a 3D design, but there are some important things to take into account.
As a scanning expert, Nils gives his advice to turn 3D scans into 3D designs.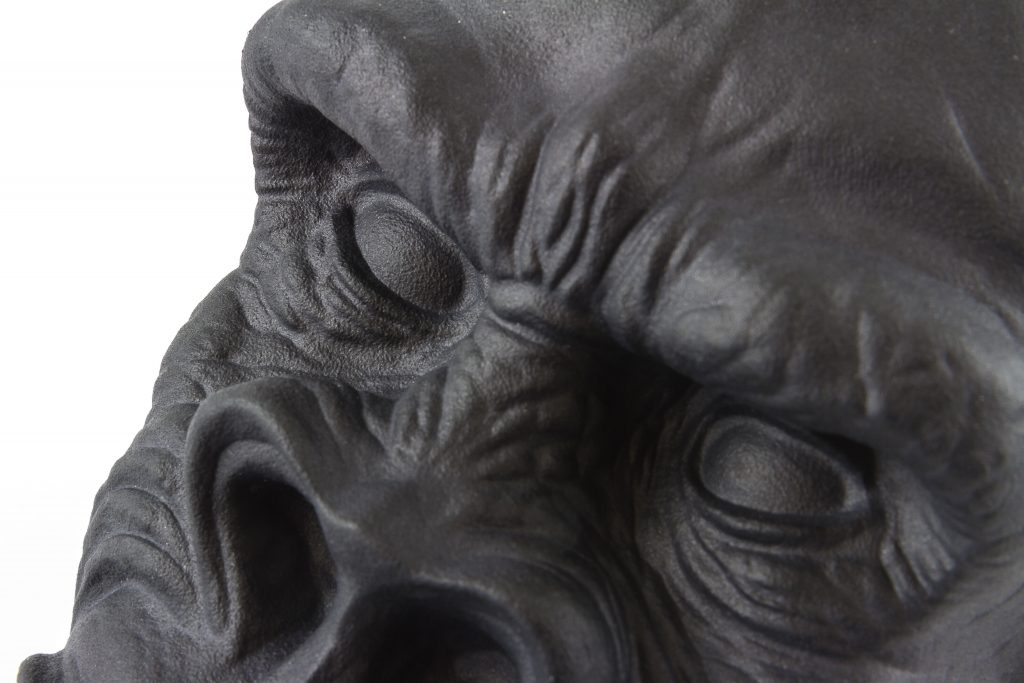 "The holes are the most crucial parts to be careful with and also any internal cavities that can be difficult to reach with the scan."
"Remember to reduce the amount of triangles before fixing the files, and make sure that the models have light, matte colors. Clay was a perfect material to 3D scan because shiny surfaces are much harder to scan."
The creative possibilities of 3D scanning
Steven had the idea of turning his clay creation into a pair of bright cufflinks and 3D printing made it possible. The cufflinks were 3D printed in untreated brass. This material was perfect to keep the details of the 3D design, even when the scale and material changed.
This process is a good example of the endless applications of 3D scanning a real object.
In this case, scaling up and reducing the models is really impressive.
The real model is 30 cm, and the 3D scan was made at a 1/1 scale, but since the design has so much detail it can be blown up to be as big as you like. That means it could be turned into a real gorilla! "This is not too different on how models are created for big Hollywood movies," according to Nils Faber.
"The figure in a different size would explain a whole new story and it would be a great creative exercise," Steven adds.
Coloring the models to find the colors that you like is also an ideal application for a 3D scan, or even replicating the models to apply them onto other objects, such as a décor.
Steven is very enthusiastic about the applications of the scan: "As an artist it is enjoyable to make fun stuff with 3D models. I am a big fan of pop culture and a mish-mash of things from the past and present!"
The figure in a different size would explain a whole new story and it would be a great creative exercise
Ready to 3D scan your figures and get creative with your 3D models?
Discover the most popular scanners and 3D scanning software to design your 3D prints.
Nils used a professional 3D scanner for this project, but you can also get high-quality 3D scans at home. For example, you can use the app Qlone to 3D scan small objects and 3D print them directly with i.materialise.
Once the scans are ready, you can upload your files to our 3D printing platform and decide what the best material and size is for them.
What would you like to see the 3D scanned gorilla used for? Let us know in the comments!