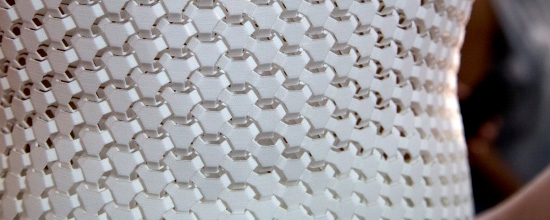 3D Printing Spotted at NY Fashion Week in Katie Gallagher's Spring/Summer 2015 Collection
by Elizabeth | October 20, 2014
Fantasm. No, that is not a misspelling: it is the original spelling of the modern-day word "phantasm", which describes something that can only be perceived. Before you start to have a cold sweat with flashbacks to the epistemology chapter in your Philosophy 101 class, let's ease your mind by showing you some pictures of Katie Gallagher's "Fantasm" Spring 2015 collection.
These beautiful pieces made their appearance at the past New York Fashion Week:
As you can see in these photos, Katie Gallagher's look for this collection has a remarkably ghost-like appearance with a nod to Victorianism. The word "fantasm" takes on a different meaning after seeing these pieces and you see how she is playing with the idea of our senses perceiving something as "real" or "other-worldly", with these models giving the impression that they could completely disappear at any moment.
One part of this collection that clearly shows the link between reality and illusory was designed by Bradley Rothenberg and 3D printed by Materialise in polyamide.
By laser sintering the back of the top of this piece, Bradley was able to make something impermeable and permeable at the same moment. The links weave flawlessly into one another – a design that could only be created with 3D printing – giving a piece that changes depending on the position of the viewer; some sections could look solid to one viewer, while that same section could look porous to another standing just a few feet away. The perspective of the viewer illustrates Katie Gallagher's theme that perception changes from person to person, and plays with the viewer's senses that something could disappear at any moment.
Here are Bradley's original designs for the piece, which further illustrate the complexity and feeling that it might just vanish at any minute.