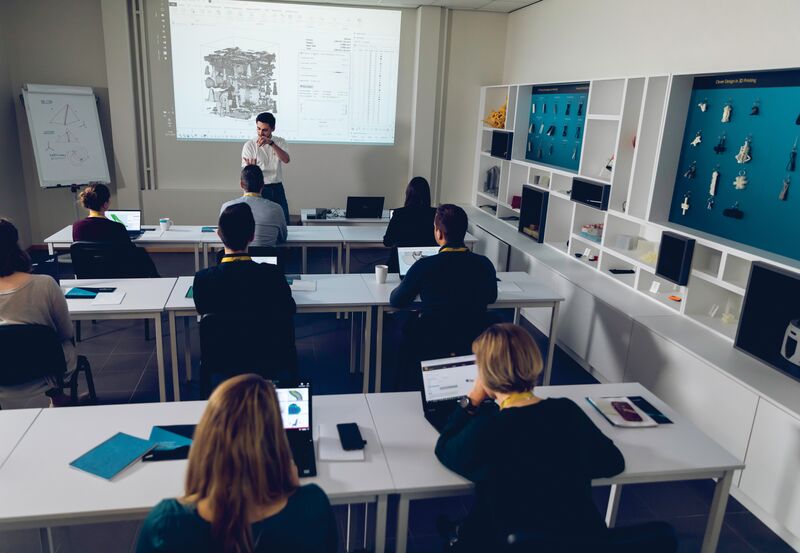 How Is 3D Printing Shaping Education?
by Derek | February 2, 2022
Did you start the year promising yourself that you would exercise more, eat less, and improve your mind? Traditionally, the beginning of the year is for reflection and goal setting. However, research shows that 80% of people give up on their New Year's resolutions by February due to a lack of goals*. Although we can't help with your fitness or nutritional decisions, we're determined to help you stay motivated and reach your goals with 3D printing.
We've come up with five stories that illustrate how 3D printing is being used in education worldwide — benefiting teachers, students, and institutions for the better. Enjoy!
1. Engineering students create one of the world's fastest solar race cars
Our journey begins in Belgium, where the Agoria Solar Team from KU Leuven University strives to build the most innovative and efficient solar cars. The current European and World Champions are constantly seeking that extra edge to keep them ahead of the competition.
That's why they've partnered with our parent company, Materialise, to boost the performance of their solar-powered vehicles. The team recently 3D printed two main car parts — the battery case and the steering handle — for their latest car: the BluePoint Atlas. The team chose 3D printing for these components because of the technology's flexibility, reliability, and ease of use to form various complex, lightweight structures.
In October 2021, the team entered BluePoint Atlas into the Solar Challenge Morocco, a brand-new solar race across the Moroccan Sahara. And at the end of the five-day, 2,500 km race, the team won silver! Congratulations to the Agoria Solar Team on this outstanding achievement!
2. Physicians use pulsating, 3D-printed children's hearts for realistic catheter training
The next stop in our educational tour is Germany! The Department of Pediatric Cardiology at the Ludwig Maximilian University (LMU) Hospital in Munich developed 3D-printed models of children's hearts for realistic catheter training.
This is a significant achievement as there is currently no practical training simulation set-up for children's hearts or congenital heart defects. However, by using 3D-printed models, students and physicians now have the chance to improve their technique and gain confidence in applying catheters under real-world conditions.
As well as having static designs, the latest generation of 3D-printed models can even beat like a real heart! The clinical team made this possible using Mimics Innovation Suite (MIS) — a software toolbox that allows you to import medical image data (DICOM) and segment the anatomy to create accurate 3D models. With the help of the design module in the 3-matic 3D modeling software program and a clever array of silicone tubes filled with water, these lifelike 3D-printed organs are now a reality. And how do they throb? A connectable pulsatile drive unit simulates the heart to beat in training situations.
3. Scholars replicate, translate, and print an ancient text into a 3D-printed book
We venture further afield to warmer climes: specifically, Schio, a small town near Vicenza, Italy, where a 500-year-old book was discovered in the town's library. Such a revelation should be shared with the world — and that's how it became a candidate for the TEMART project. Funded by the POR-FESR Veneto Reg. Program, those involved in this project use 3D printing to create artistic reproductions involving the senses of the visually impaired.
With the help of Ecor International and the Il Sentiero International Campus, the team settled on the idea of recreating the text through 3D printing. And although some challenges arose — such as deciphering an archaic language and making sense of some illegible passages — the Il Sentiero team opted for Materialise Magics 25.1 (data and build preparation software) and stainless steel material for the new book. The label, honeycomb, and cut or punch tools found in Magics enabled the team to modernize the text and format.
The result? An ancient text available for a contemporary era. Once welded and polished, the final piece exceeded everyone's expectations — particularly the application of both the current Italian and Braille translations.
4. Veterinary neurologists and neurosurgeons use 3D printing for patient care
Circling back around to Switzerland and the area of medicine again, but this time, the veterinary field. In a recent interview, Dr. Julien Guevar, Veterinary Neurologist and Neurosurgeon at the University of Bern and AniCura, Switzerland, discussed the importance of 3D printing and personalized patient care.
He's a strong advocate of 3D printing, as it allows him to prepare for surgeries in advance using 3D-printed models and drill guides for the most optimal trajectory of his incisions (with the help of MIS). This is crucial as Dr. Guevar operates on animals that weigh less than two pounds, with spinal cords that have widths smaller than a pencil, so planning and precision are key factors for him.
The benefits in real-life situations are clear, but what about training purposes? 3D printing also benefits those still in academia, as models let residents in training practice and prepare complex and/or uncommon surgeries. Usually, there's a steep learning curve, but 3D printing can reduce this significantly. Visualizing and touching 3D models is a major advantage instead of relying on textbooks.
5. Paleontologists 3D print a skeleton of a prehistoric mammoth
Finally, we arrive full circle to Belgium and the Royal Belgian Institute of Natural Sciences (RBINS) in Brussels. The RBINS is home to millions of specimens, one of which is the Lier mammoth (mounted in 1869) — and the first skeleton of its kind ever to be displayed to the public in Western Europe. Its rarity and scientific importance made it a prime candidate to exhibit to natural history enthusiasts the world over. The re-opening of the City Museum of Lier presented an exciting opportunity. The original bones couldn't be moved from Brussels, but they could be recreated.
Drawing on, coincidently, Materialise's Mammoth resin printers and a team of 19 people, the skeleton took just over a month to print. Materialise Magics allowed the full structure to be digitally reconstructed and analyzed, replacing missing bones and using up-to-date insights to create an accurate representation of the mammoth. Around 1,260 printing hours and 320 bones later, the 'Lier Mammoth 2.0' was born.
The result was an exact, anatomically correct replica. The new, 3D-printed Lier mammoth is even more scientifically accurate than the original. This is due to the team utilizing today's latest anatomical insights and scientific knowledge to compare the 3D-printed model against the original fossil that was mounted over 150 years ago. Now, the mammoth is proudly displayed in Lier for generations of visitors to enjoy for years to come.
Education doesn't have to be boring — try creating something new with 3D printing today
3D printing impacts education significantly, making it easier for students and teachers to learn more and engage in their chosen field or subject in unique ways. It has practical, real-world implications, and the use of 3DP will only grow. So, we encourage you to keep learning and push forward with your 3D printing adventure! And, at i.materialise, we have a range of materials, tools, and guides to help you stay the course this year.
Feeling inspired?