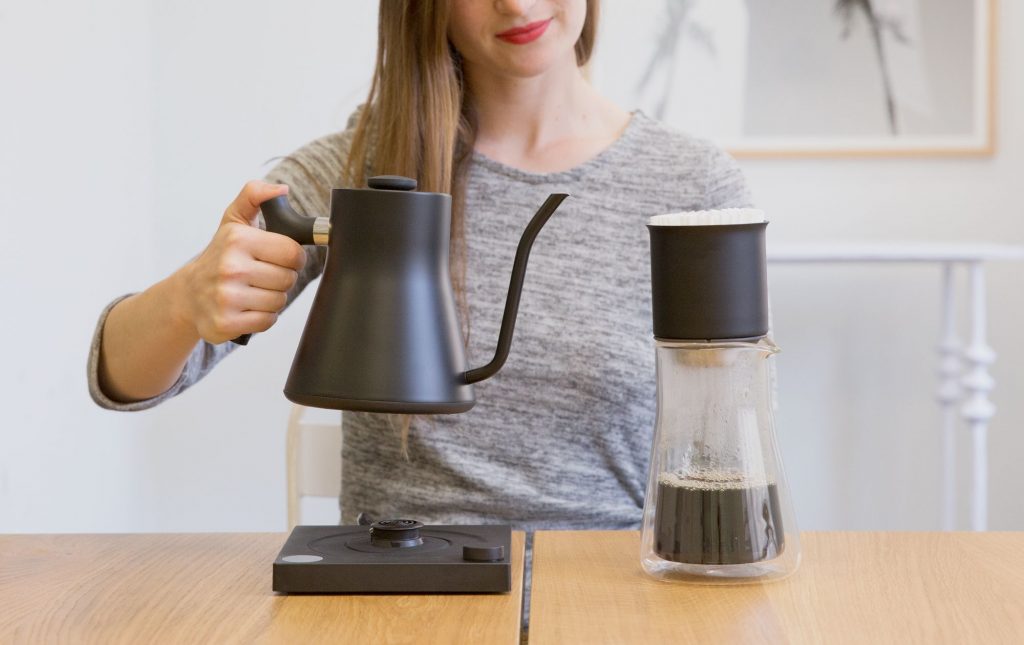 How to Use 3D Printing for Product Design: Meet the Fellow Coffee Lovers
by Aura | October 17, 2017
For entrepreneurs, it can be difficult to predict if a good idea for a product will be accepted in the market, but a good design is often the key to success. The story behind Fellow is a good example of that. This start-up based in San Francisco has created some exceptionally beautiful and functional coffee brewers, and they use 3D technologies to bring their ideas to life.
What started as a class project has grown into a small company devoted to good coffee and product design. In 2013, Fellow founder Jake Miller launched a successful Kickstarter campaign for the first company's product: the Duo Coffee Steeper. Eight months and countless prototypes were needed to create this product.
Since then, this "handful of nerds in love with coffee", as they call themselves, haven't stopped creating functional objects that allow them to achieve a clear goal: a ridiculously good cup of coffee.
Creative minds at work
Fellow is inspired by their customers and what they can do to make the user experience easier and more approachable. On the aesthetically, they draw a lot of inspiration from Scandinavian and Mid-Century Modern industrial design.
Every member of this small start-up, from sales to marketing to engineering, is a maker in some way or has a creative mind. All of them are involved in the creative process in Fellow.
"This aspect of our company helps us gain a unique perspective on special features and helps us understand the user experience better because we have more heads combining to tackle a problem or product", explains Hannah McPhee, brand manager for Fellow.
The ideation sessions they hold every Friday are open for anyone to attend in the company. This is where they can present a new product idea they have floating around in their brain or present input on how one of the current products can be improved.
3D printing coffee dreams
3D printing is used in multiple points of the design process in Fellow, where they are constantly making new prototypes. According to the start-up, they never follow the same prototyping process with each new product they make. They use different 3D design tools when they are working back and forth between industrial designers and engineers.
Hannah sees it as a learning process: "We learn something new in the design process of every product, so no two 3D printing and modeling program recipes have ever stayed the same product to product."
Fellow doesn't hesitate in stating that 3D printing is vital to the company because it makes it possible to see products to scale, hold them and feel their diameter and height. "To see how our product takes up space in kitchens is incredibly helpful to figure out if we are on the right track for form and function."
3D printing will definitely be part of future products designed by Fellow as they create iterations of the same product with 3D printing during the design and engineering process. "We'd be shocked if we created a product without the use of 3D printing in the future."
"We'd be shocked if we created a product without the use of 3D printing in the future."
Encouraging new business ideas
Fellow gives a crucial piece of advice to start-ups and creatives with business ideas: prototype as much as possible with customers and users using 3D printing or other high-end prototyping.
This will help the business understand as closely as possible how customers will interact with their products. Hannah adds some more tips: "Observational research is key. Hold user testing focus groups with surveys. Try to get as close as possible to that natural interaction between the final product and the user's home for the product."
Their new product, the Stagg EKG electric pour-over kettle, is a good example of this design process. "We 3D printed a ton of different bases for this kettle to help us understand our users' needs better," explains McPhee. Faithful to their origins, the launch of this kettle started as a successful Kickstarter campaign. "We are shipping our first Kickstarter batch this month, and we're incredibly excited to share our creation with our backers."
We hope Fellow's story was inspiring and useful for all the companies who want to start using 3D printing in their business and projects.
What is your creative business project?
Like Fellow, it is good to know all 3D printing software options available before choosing the right one for your needs.
Once you've chosen your software, upload your model to i.materialise to get an instant quote on prototypes or parts for your product.