Join Our Next 3D Printing Meetup for Jewelry Designers on June 17th!
by Fabian | June 1, 2016
3D printing brings your virtual jewelry designs to real life. Our 3D printing meetup for jewelry designers will give you the inspiration and technical know-how that is needed to turn your projects into 3D printed reality.
The i.materialise meetup is designed to inform you about the ins and outs of 3D printing materials and technologies. We will also give you the chance to learn how 3D printing could benefit your jewelry designs and business ideas.
Who is it for?
Our meetups are ideal for professional jewelry designers with some prior knowledge or strong interest in the fields of 3D printing and 3D modeling. Our typical audience consists of jewelry designer who would like to discuss their (future) 3D printing projects with us.
We also welcome journalists and will provide you access to excellent photos, quotes and connections. Come join us on a dazzling, high-energy tour through the largest 3D printing facility in Europe!
How will the meetup help you?
You will gain an in-depth insight into a professional 3D printing company, get the opportunity to exchange ideas with fellow jewelry designers and get professional feedback on your projects from the i.materialise team.
This meetup is perfect for you if you were thinking about 3D printing your next jewelry designs and if you are interested to learn more about the latest business & design possibilities that come with 3D printing.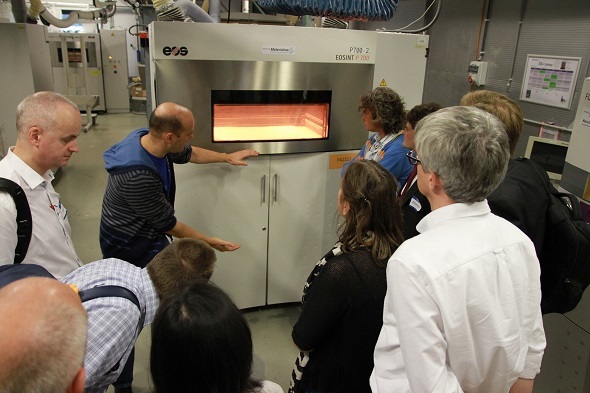 Agenda for the meetup:                                                  
14.00h Registration & Welcome Drink
14.30h Presentation about 3D Printing Materials, Technologies & Solutions
15.30h Company Tour
16.15h Networking Drink & Time to Talk About Your Projects
When and where can you join in?
Come join us for our next meetup at our headquarters in Leuven on June 17th. Please complete our application form and we will respond to your request as soon as possible:

Address: Materialise HQ, Technologielaan 15, 3001 Leuven, Belgium
Date/Time: Friday, June 17th, 2016. 14.00-17.00 (Belgium time, GMT+1)
Spots are limited. Early registration will increase your chance of securing a seat. Please note that all presentations will be given in English.