3D printing in Titanium, still going strong
by Franky | October 24, 2012
At little less than two years ago, i.materialise introduced 3D printing in Titanium. The high-end technology enabling this – DMLS (Direct Metal Laser Sintering) – is still one of the world's most advanced manufacturing technologies.

We're excited that i.materialise is still the world's only online 3D printing service to let consumers, inventors, designers, and you, order titanium 3D prints. Back when we launched this material, we didn't quite know what you would do with this technology. But over the past two years, you've amazed us with a lot of incredible designs. It seems you mainly want to use titanium for jewelry: earrings, engagement rings, wedding rings, pendants, and cufflinks. So, this will be our main focus for titanium from now on.
The Material: 3D Printed Titanium
3D printed titanium (unpolished) doesn't look like the traditional shiny milled titanium. Instead it's a bit grayer and more matte with a slightly rougher and less defined surface. If you do want it all nice and shiny, your model can be polished manually. This, of course, depends on the reachable surfaces. Some models cannot be polished.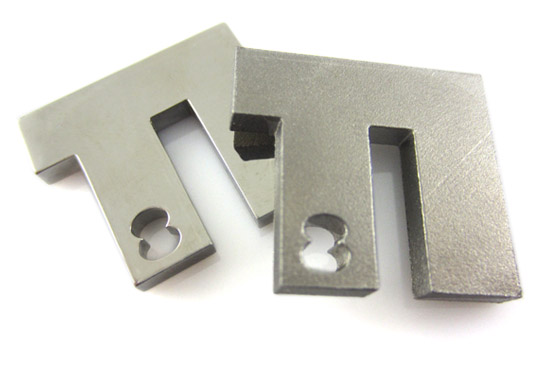 The material has proven great for jewelry because, generally speaking, you cannot have any allergic reactions to the material.
Remember that it's not the cheapest 3D printing material, but its high heat resistance, high accuracy, and unparalleled strength all make up for that.
Pricing Info about 3D Printed Titanium
Titanium pricing is based on the volume of your model. For example:
Volume less than 1CC³ = 97,5€
Volume less than 2CC³ = 130€
Volume less than 3CC³ = 195€
Technology: DMLS 3D Printing
Direct Metal Laser Sintering (DMLS) is the technology used for 3D printing your models in Titanium. The process is quite similar to the Selective Laser Sintering process that is used for your polyamide models. But, instead of nylon powder, titanium powder is used.
Technical Details of 3D Printed Titanium
Alloy family: Ti6Al4V
Maximum size: 250 x 250 x 400 mm
Minimum wall thickness: 0.4 mm
Minimum detail size: 0.25 mm
Minimum text: 0.4 x 0.4 x 0.15 mm
Production time: 15-20 business days
Everything else you'd like to know about the material can be found on the titanium material details page.