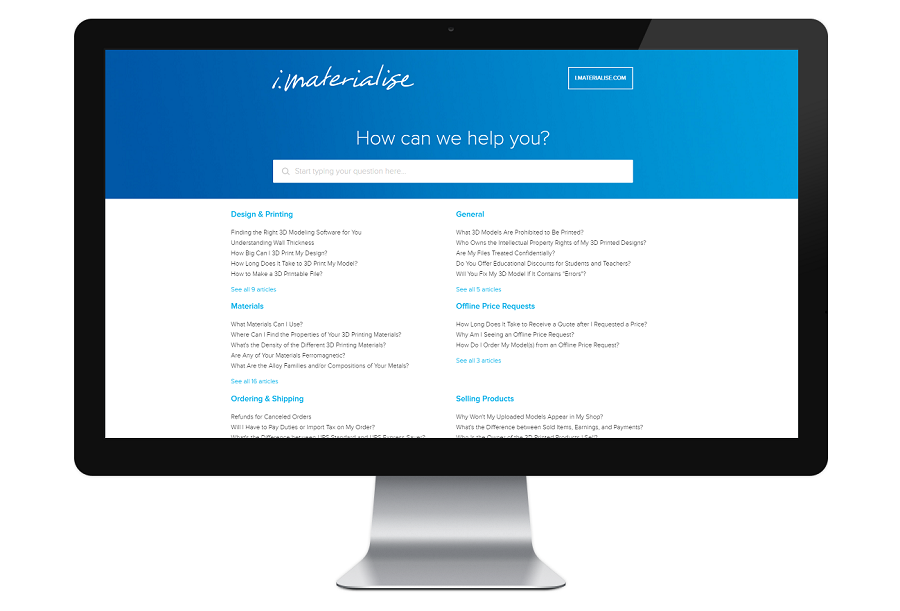 i.materialise Launches New Help Center for Most Popular Questions About 3D Printing Services
The solution to your 3D printing issues, questions, or problems is out there! The only question is how to find it. So, when was the last time you carefully read through FAQs in a desperate attempt to find the answers to your questions? Right, never. So we've worked on something new.
Rather than ask you to find the answer to your questions, we asked ourselves how we could share our knowledge and answer the most popular questions in a better and faster way. That's why we are so happy to announce the launch of our new Help Center today!
As of today you can browse through our Help Center and find more than 80 different essential questions and answers about 3D modeling, 3D printing, materials, prices, shipping and using i.materialise. Want to know the density of our 3D printing materials? Want to know if they are ferromagnetic? Want to know the layer thickness of each material? Or how to use a promo code? We've got it all covered.
Over the past months, we've analyzed all the questions that our support team gets every day and wrote clear and comprehensive answers to each of these question. Moreover, you do not need to scroll through an endless list of questions anymore. Simply type what you are interested in and we'll suggest answers that will benefit you the most.
You can even rate the quality of the answers and help us to provide you with even better information in the future. We will continue to add more interesting articles in the near future. Feedback is appreciated, so let us know if you think something is still missing. Enjoy our new Help Center at i.materialise.com/help!