3D printing from Tinkercad
by Wim | August 16, 2011
We're delighted to announce that Tinkercad, a very easy-to-use CAD tool that runs in a browser (via WebGL), now offers a one-click support to our i.materialise 3D printing service. Thanks to this feature, getting an idea designed, printed, and in your hands is truly a piece of cake.
Tinkercad is very user-friendly: with only three tools, a wide variety of designs can easily be made in Tinkercad in 5 minutes, or less. And remember, you can do all of this  in your browser with no installation required.
Once your project is ready, simply click on the "Print 3D" button in the upper right-hand corner of the editor.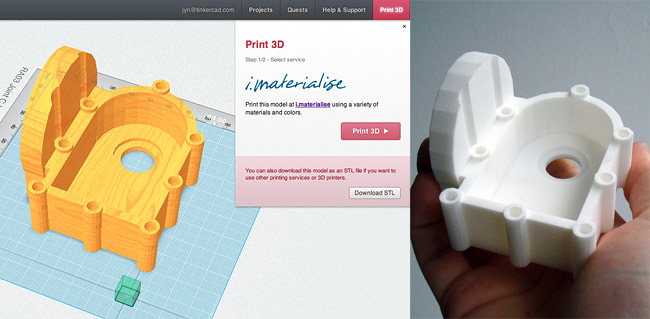 Your design will be sent to the i.materialise 3D print lab, where you can choose from a variety of materials and colors.
Add the design to your cart, place the order, and within a couple of days you will be showing off your design to everyone you know.
Designing and 3D printing your own designs, like the connection piece pictured below has never been easier.
Try it out and give your opinion. Enjoy!