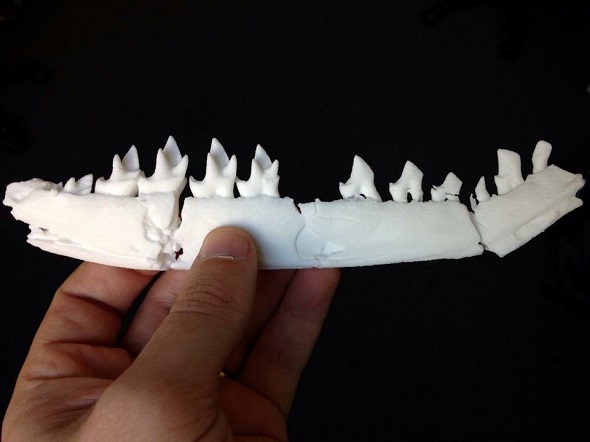 3D Printing Fossils: Researcher Prints and Shares Fossils from Jurassic Epoch
Dr. Roger Close is a quantitative paleobiologist. His greatest interest lies in studying 'macroevolutionary' patterns in fossil records, documenting broad-scale evolutionary changes in groups such as birds, mammals, and fishes. Plus, he also knows a thing or two about 3D printing.
With some colleagues, Roger published a paper reporting the discovery of a 170-million-year-old fossilized mammal jaw belonging to a mouse-sized species called Palaeoxonodon ooliticus. The team found this jaw in Middle Jurassic rocks on the Isle of Skye in Scotland. Palaeoxonodon is an important species for understanding the evolution of molar teeth in modern mammals. With the help of Roger's 3D printing and 3D scanning knowledge, the team of researchers made a major discovery. The three species previously described on the basis of individual fossilized teeth actually might belong to just one species.
"As recently as 15 years ago, it would have been standard practice to expend a considerable amount of time and effort manually removing the fossil from the hard limestone rock. However, we were able to use an X-ray computed tomography (CT) scanner at the Natural History Museum in London to obtain an amazingly detailed three-dimensional image of the specimen, so all the preparation could be done digitally," says Roger.
Once Roger had made a 3D surface file from the scan—a remarkably quick process, as he told us—he was able to order a 3D print from i.materialise. He had previously helped colleagues to process scans of other tiny fossil mammals from the Cretaceous period in Victoria, Australia, that were subsequently used to produce detailed 3D prints via i.materialise: "I already knew how amazingly detailed the models could be. However, this was the first time I had used 3D printing for my own research."
Now, why would a researcher from the University of Oxford need such a 3D print? Well, there seem to be several reasons. Firstly, a 3D file and 3D print have certain advantages that the original fossil doesn't have. For example, it can be scaled up and better observed: "The fact that the model could so easily be scaled up to 20 times its original size made it all the more fun. I found that being able to scrutinize a 3D print was genuinely helpful while describing the anatomy of the fossil for publication, as it highlights features that might not be immediately apparent on a computer-screen rendering."
Secondly, a 3D file can be shared. This means that researchers, educators, and hobbyists from all over the world can download, edit, rescale, and 3D print the jaw as well. Roger uploaded his 3D files to DataDryad.org, a database that makes the data underlying scientific publications discoverable, freely reusable, and citable. Other research institutes and organizations follow this example. The Smithsonian Institute launched the Smithsonian X 3D project, which lets users download 3D captures of historic and scientific objects, such as the 3D model of a woolly mammoth that we 3D printed for the Making A Difference / A Difference in Making exhibition in 2015.
Thirdly, a 3D print comes along with a certain coolness factor: "The best thing about having a 3D print of the fossil was that I could show the specimen off to colleagues and friends—virtually everyone who saw it was amazed, particularly when they heard that the model had only cost a tenner!"
Roger decided to go with our Polyamide material for this print and expressed his interest in trying out High-Detail resin prints in the future: "I thought that the Polyamide material was very detailed and represented excellent value for money, though next time I might try one of the more detailed Resins."
We wish Roger the best of luck with his upcoming projects and can't wait to print some more fossils! If you liked this story, you should also read about Nils Anderssen who created the perfect replica of a 6th-century sword for the Norwegian National Museum of Art. Also, keep in mind that students and academic staff of all fields of study receive a 10% discount on 3D prints ordered via our online 3D printing service.