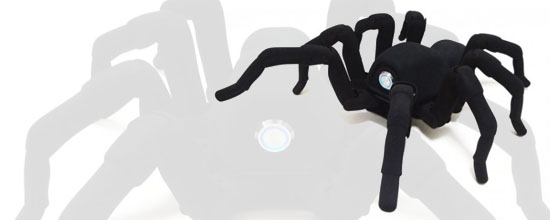 3D Printing and Robotics Combined in a Life-like Spider
by Franky | July 10, 2013
I was already a big fan of the T-800, T-850 and the liquid metal shape-shifting T-1000. But last week, I bumped into the T8. This one is not a Terminator, but a bio-inspired high resolution 3D printed spider that uses a total of 26 servo motors, and it's powered by the Bigfoot™ Inverse Kinematics Engine. Believe me, it has written 'WANT' all over it.
The T8 by Robugtix™ is an octopod that can mimic the movements of a real spider. The movements of this life-like spider are handled by the Bigfoot™ Inverse Kinematics Engine, which uses complex calculations to control multi-legged walking robots. It's powered by 26 servo motors (3 in each leg and 2 in the abdomen) and can be controlled in real-time with a wireless Robugtix™ Controller or pre-programmed with movements. So you can either make it crawl and creep upon people or show off some sweet dance moves.
The T8 kit sells for $1,350 and the estimated release date is September this year. Can't wait!
via Robugtix™