3D Printing Wood is Possible
We are proud to announce that one of the world's newest and most advanced manufacturing technologies for 3D printed wood is now in the hands of consumers, inventors, and designers like you. From now on we welcome every designer to upload their 3D models to our website and order a wooden 3D print of their designs.
3D Printed Wood: the Material
Models in wood are constructed from a brown, very fine, granular powder made from wood chips. The surface has a sandy, granular look, and is slightly porous.
Wood is perfect for complex models, as it allows for interlocking and moving parts. Typically, these are models you put on your desk or on a shelf such as architectural scale models, figurines and awards. The technique used to print wood gives you lots of design freedom, meaning you can create an object that cannot be realized with traditional woodworking methods.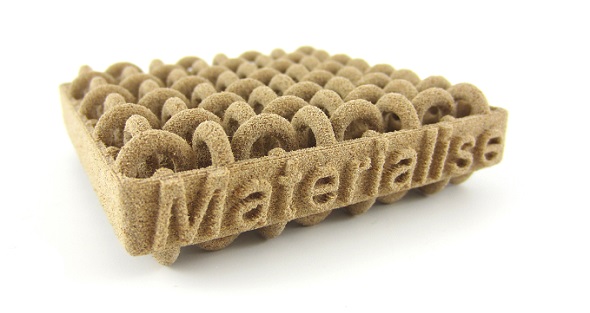 The First Designs in 3D Printed Wood
Before we launched this 3D printing material, we asked our community to submit the first designs for our wood 3D printers. Here are some of the winning designs:
3D Printing Wood: the Technology
Laser sintering is used to build your design with this material. The models are printed layer-by-layer using a laser that draws thin lines on a powder bed, which melts and bonds the powder with the previous, already solidified layers model. After a layer is printed, a new layer of fresh powder is spread over the surface by a roller. The printer has a print chamber that is heated to just below the melting point of the powder; the laser beam adds the extra energy to melt the powder, forming a solid model. After a print job is finished, the result is a big block of warm powder with the printed models resting inside.
Here is a diagram that explain this concept in pictures:

Design Guidelines for 3D Printed Wood
This 3D printing technology enables you to print up to a maximum size of 250 mm x 250 mm x 200 mm. It also allows for interlocking and moving parts in your designs. When you design something like a chainmail, make sure to provide enough space between the rings in your 3D model. At least 0.5 mm of space should be kept between the rings.
The strength of 3D printed wood is lower compared to other 3D printed materials. Thus thicker walls (of minimum 3 mm) are recommended. If possible, try to hollow out your model. This avoids deformation during the printing process. When selecting this option, you need to foresee at least one hole with diameter of at least 15mm in your model so the wood powder trapped on the inside can be easily removed after printing. We recommend that you create several holes so that the material can be removed even easier.
Learn more about this exciting new material here and visit the main site of our online 3D printing service if you would like to order a wooden 3D print of your design.