Top 10 3D Printed Valentine's Day Gift Ideas
Could there be anything more romantic than combining Valentine's Day with 3D printing? I don't think so. If you are looking for ways to bring the personalized touch of 3D printing into your Valentine's Day gift exchange or if you're simply interested in 3D printing jewelry, look no further. In this blog post we will show you the top 10 3D printed Valentine's Day gift ideas.
1. Robin Ring by Silver Shrimp (3D Printed in Bronze)
What could be better for lovebirds than handing out this 3D printed bird ring as a present? You can get this bronze ring in Silver Shrimp's i.materialise shop for only 21.33 EUR (23 USD), which shows once again that 3D printed jewelry can come at a really affordable price.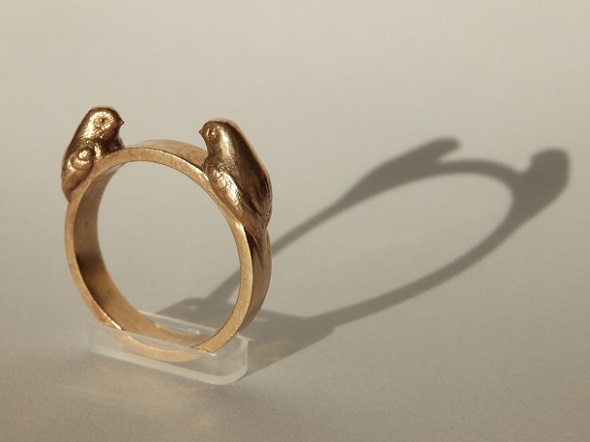 2. Ripple of Heart Pendant by Eugene and Emrys (3D Printed in Brass)
Influenced by Japanese Zen philosophies, this "Ripple of Heart" pendant showcases a water-drop-shaped pendant with water ripple patterns across the surface and a heart enshrined in the water drop. Its designers Eugene and Emrys wanted to make sure that the design profits from the capabilities of 3D printing while preserving the roots of traditional Oriental philosophies. You can get it in their shop right here.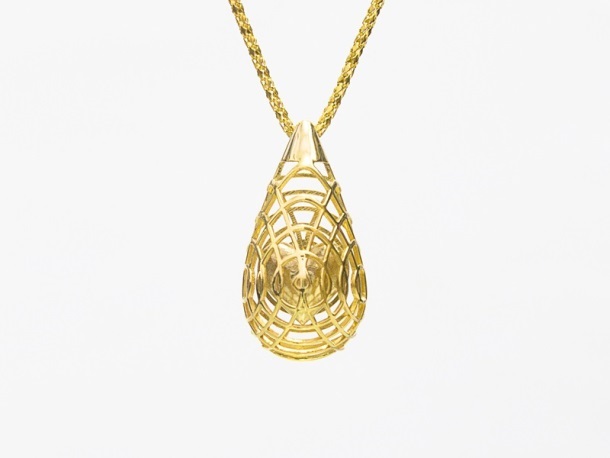 3. The Rhino Pendant by Genghis Designs (3D Printed in Brass)
The Rhino pendant is more than just a piece of jewelry, it's a small piece of art. The details of the print and the creativity of its designer make this brass pendant a real eye-catcher. You can get it at Genghis' shop here on i.materialise.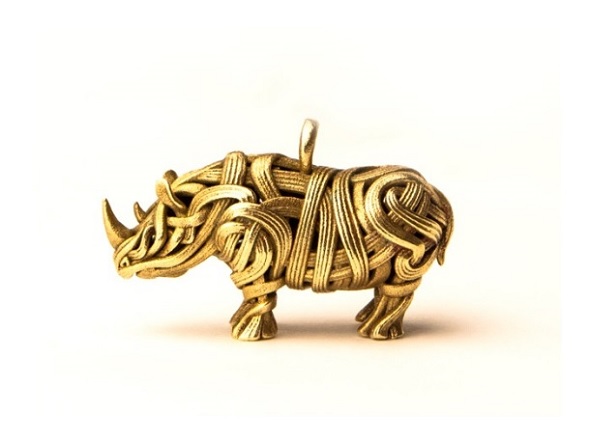 4. Gold Plated Hypno Owl by Michael Mueller (3D Printed in Brass)
You can't make a list of 3D printed jewelry without mentioning outstanding design Michael Müller! With his Hypno Owl pendant he claims that "you can easily hypnotize people!" Might be of good use if your Valentine still needs some persuasion. You can get this pendant here.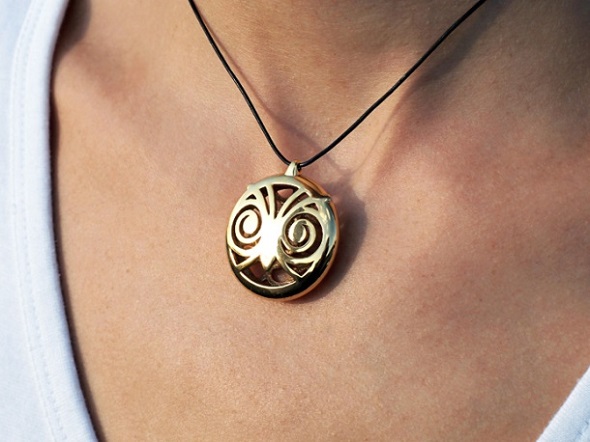 5. 365 Hearts Cross by Marc van Megen (3D Printed in Silver)
The 365 Hearts Cross by Marc is a unique silver pendant symbolizing luck, faith, love and hope with the four-leaf clover arrangement of 1461 (!) little hearts. You can take a better look at this fantastic silver 3D print in Mark's i.materialise shop.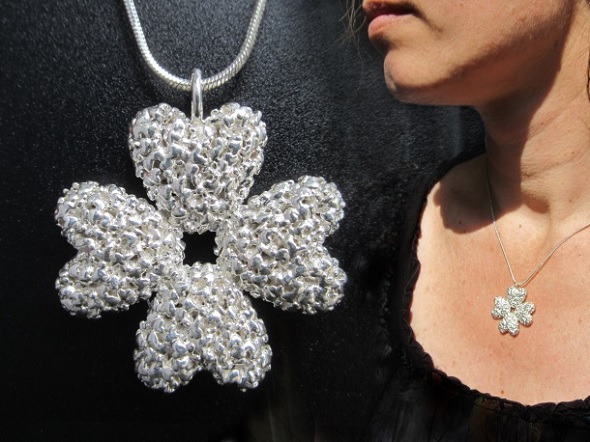 6. Constructionist Bracelet by MCODE/Maaike van der Horn (3D Printed in Brass)
If your Valentine is into architecture this 3D print might come in handy: the Constructionist bracelet was inspired by modern architecture and its use of complex repetitive geometrical structures.
Maaike, its designer, also explains: "This bracelet is an example where new techniques like 3D printing has opened up a world of design possibilities. This bracelet would be impossible to make using traditional jewelry techniques."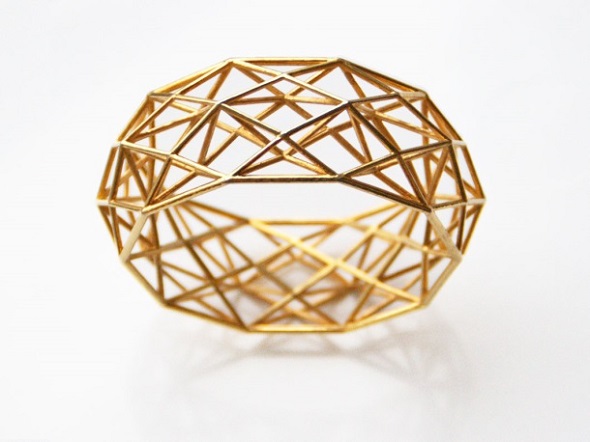 7. Glam.or.ous by Designeradesigns (3D Printed in Brass)
It's not the first time we present a design by Designeradesigns on our 3D printing blog. But the young talent from Canada simply cannot be missing from this list. Her design is best described in her own words: "Full of glamour; charmingly or fascinatingly attractive, especially in a mysterious or magical way." Find out more about her ring here.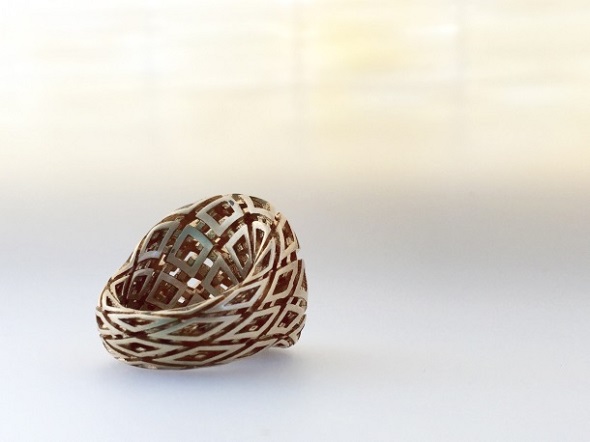 8. Soliton Pendant by Bathsheba Grossman (3D Printed in Steel)
The course of true love doesn't always run smooth – nor does each and every 3D print have to. The look and feel of 3D printed steel is somewhat rougher than those of precious metals. Bathsheba Grossman made good use of these material characteristics and created a stunning steel pendant that you can find in her i.materialise shop.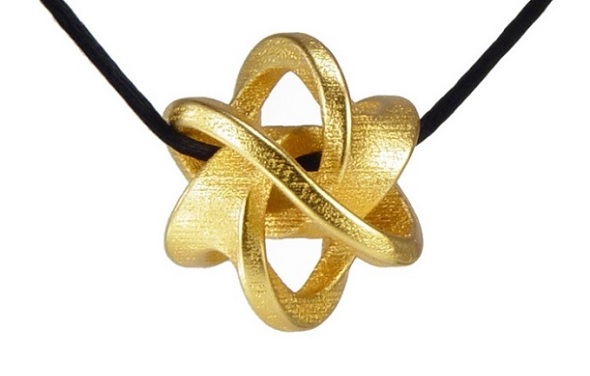 9. Lovely Whistle by Michael Mueller (3D Printed in Brass)
And we'll round off this list with another design by Michael. If you're still on the search for a Valentine, using this whistle might help to get you some attention. You can get the 'Lovely Whistle' in gold-plated brass here.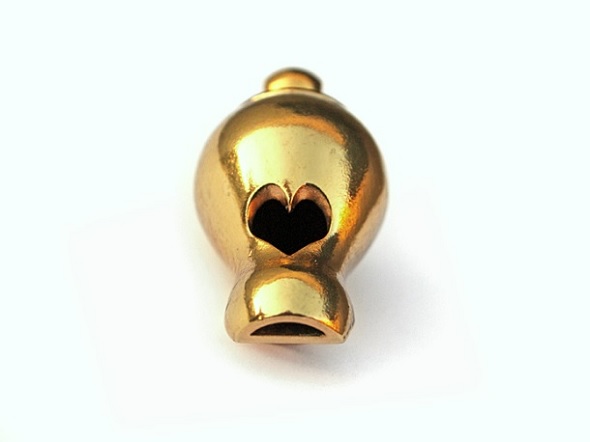 10. Mayan Ring by Noah Hähnel (3D Printed in Bronze)
This simple and stylish ring was influenced by ancient Mayan design. You can get this bronze 3D print in Noah's i.materialise shop. Read more about this designer and his new designs in this interview.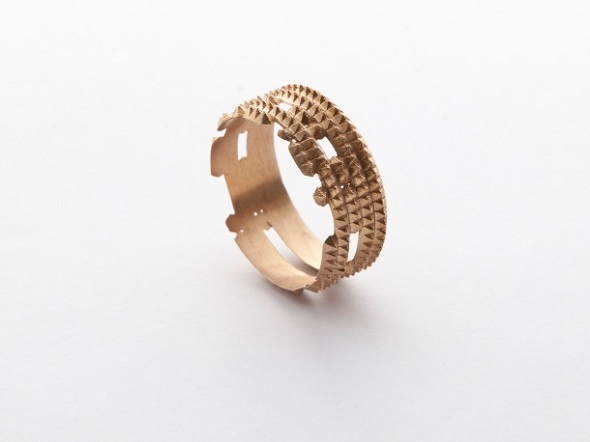 Get Your Own Design for Valentine's Day
We hope these 10 designs have given you some inspiration for creating stunning 3D printed jewelry as well. Receiving your own HD 3D print is easy. Just upload your 3D file here and order it in 100+ materials and finishes.
Learn more about 3D design for jewelry with these 3D modeling programs for jewelry designers and read more about the top materials for 3D-printed jewelry.
Get inspired with our 3D Printing for Valentine's Day Board on Pinterest!