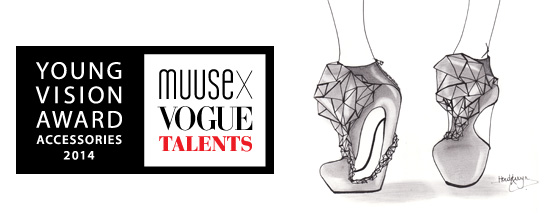 3D printed shoes by Katrien Herdewyn nominated for MUUSE x Vogue Talents Young Vision Accessories Award 2014
by Steven | February 7, 2014
We are excited to announce that the partially 3D printed shoes designed by Katrien Herdewyn, modelled by Frederik Bussels and produced by i.materialise, have been nominated for the MUUSE x Vogue Talents Young Vision Accessories Award 2014.
Take a look, and cast your vote for Katrien and her shoes on the Vogue website.
Being a student in Shoe Design in Belgium while also working on her PhD in electrical engineering, material sciences and nanotechnology, Katrien decided to blur the line between these fields and started experimenting with 3D printing in her shoe designs. She commissioned her first experiment back in February 2013 and it seems to have been an inspired choice.
"I am extremely excited about my nomination for the Muuse x Vogue Talents – Young Vision Award for Accessories. I worked very hard on this collection and I was very happy when I heard I was one of the selected designers. With my background in engineering, I try and combine new technologies with traditional craftsmanship. I believe this is where the future lies. 3D printing offers so many possibilities; you can do anything you can imagine. But when it comes to shoes, a designer always has to take into account that you have to be able to wear and walk in the shoe. I want to design shoes that are high tech and high fashion at the same time. And progressing in this competition would mean a tremendous boost for my shoe designing career and fulfilling my dream."

Katrien Herdewyn