These 5 3D Printed Metal Quill Pens Would Make Harry Potter Jealous
by Fabian | February 5, 2016
Kaecee Fitzgerald, an Australian graphic and product designer, has created 5 stunning 3D printed quill pens like no other. Her designs were 3D printed in brass and bronze and look like they could easily compete with any Harry Potter wand.
Kaecee, who worked for a 3D printing company for a couple of years herself, wanted to use the magical world of 3D printing to create a functional end product:  "I've always loved using glass quill pens for sketching in ink; they have a grace and ease of drawing that makes them such a joy to use. I wanted to see if I could duplicate that with a 3D printed item. I loved being able to substitute the smooth surface and color of the glass with the complexity and material range that 3D printing offers. Working out the dynamics of how to model a functional pen nib that would retain ink when dipped into a pot was challenging, but ultimately very rewarding."
Let's take a closer look at Kaecee's five 3D printed pens.
1. Twisted Spine Pen (3D Printed in Brass)
"Coming directly from the left field, this pen is sure to please anyone with a predisposition for the weirder things in life. Turn it over in your hand until you find the perfect grip, and then strap yourself in for an entirely unique writing experience with this twisted anomaly as your guide." You can buy the 'Twisted Spine Pen' here.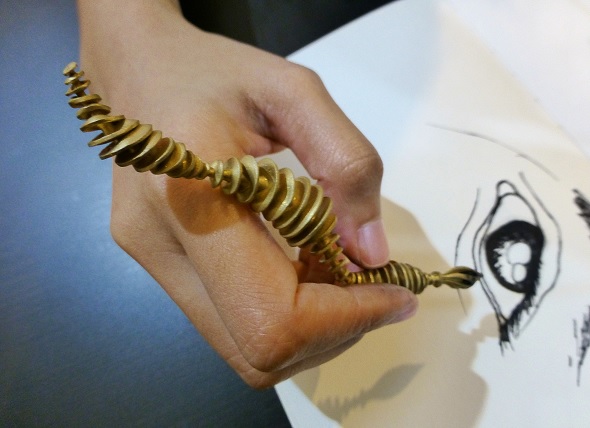 2. Pyramid Within a Pyramid Pen (3D Printed in Bronze)
"Bold and multilayered, this pen was designed to have all the complexity and intrigue that any pyramid in the outside world would have. Get lost in its endless internal facets and openings, as the sturdy grip guides you over the perilous territory of any blank piece of paper." You can get the 'Pyramid Within a Pyramid Pen' here.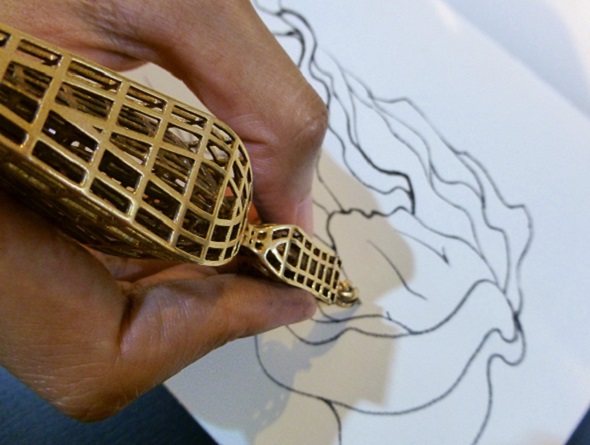 3. Caged Geometry Pen (3D Printed in Brass)
"Sturdy and amazingly light, this pen was designed with attention to interior detail that is to be admired, but is forever out of reach. A comfortable grip gives the user leave to admire the pen's caged internal architecture as it glides over the page." Take a closer look at this pen in Kaecee's shop here on i.materialise.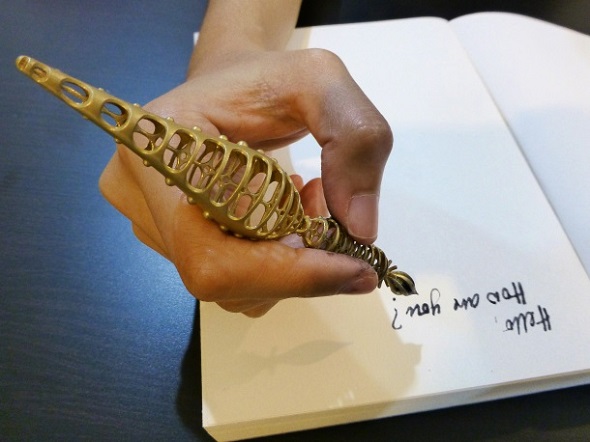 4. The Malstrom Pen (3D Printed in Brass)
"Not as fragile as it looks! This pen was designed with 5 different coil sets spun around one another to create a pen reminiscent of a vortex. An ergonomic and soft grip allow for ease of writing, while the design itself functions as a nice distraction from the boredom of your run-of-the-mill stationery set." You can get this 3D printed brass pen here.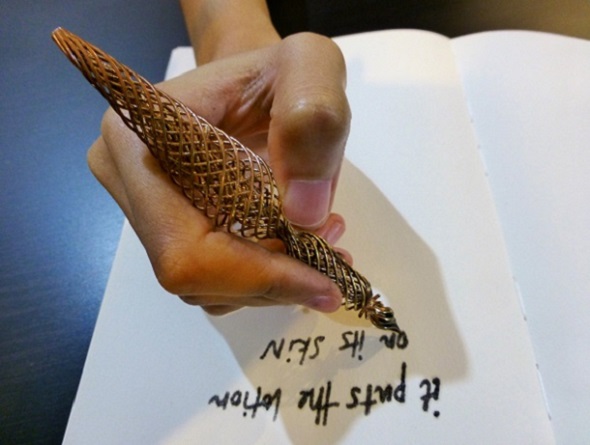 5. Vectal Mandala Pen (3D Printed in Bronze)
"Intricate and delicate in appearance, this design was made through the conceptualization of an abstract and three dimensional Mandala. Marvel at this pen's surprisingly comfortable grip and complex fractal detail as you peacefully utilize it to vent your creativity." You can purchase the Vectal Mandala Pen here.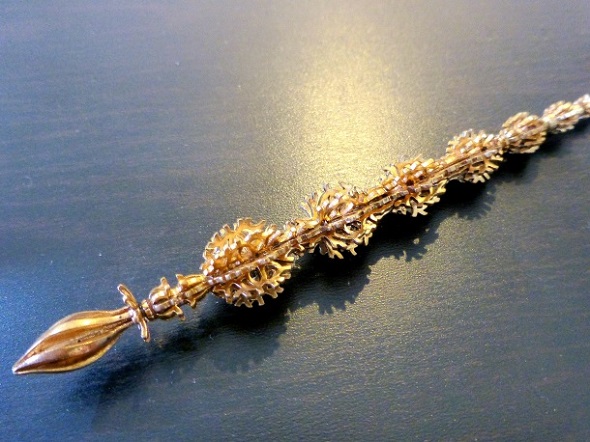 The Design Process
In order to create outstanding designs like these, advanced knowledge of 3D modeling software is necessary. Kaecee learned 3D modeling when she studied at Griffith University in Queensland. She predominantly uses Solidworks, 3DS Max and Mudbox, along with a few different web-based file fixers to make sure the model is free of corruptions.
"I feel very restricted using a single program when designing; it's either everything at my disposal, or nothing. My general workflow is that I'll sit with a glass of wine and wait for inspiration to strike, and when that doesn't happen (which is common), I'll sketch until something useful comes up. I never model without sketching out my ideas first."
Why 3D Printing Makes Sense
3D printing makes it possible to manufacture pen quills with a high level of detail: "I like that 3D printing allows designers to add another string in their bow as they explore new ways to express themselves, because it gives you the freedom to create shapes that would have otherwise been impossible to produce with more traditional techniques. I enjoy weird aesthetics and complex geometry, so to combine the two in the pen designs through the use of 3D printing was a genuine treat."
Learn More
To take a better look at Kaecee's designs, make sure to visit her shop right here on i.materialise. If you want to learn more about 3D printing high quality products in brass, bronze or 17 other materials, take a closer look at our material page. Do you already have a design that is ready to be 3D printed? Upload it here and get your quote instantly.