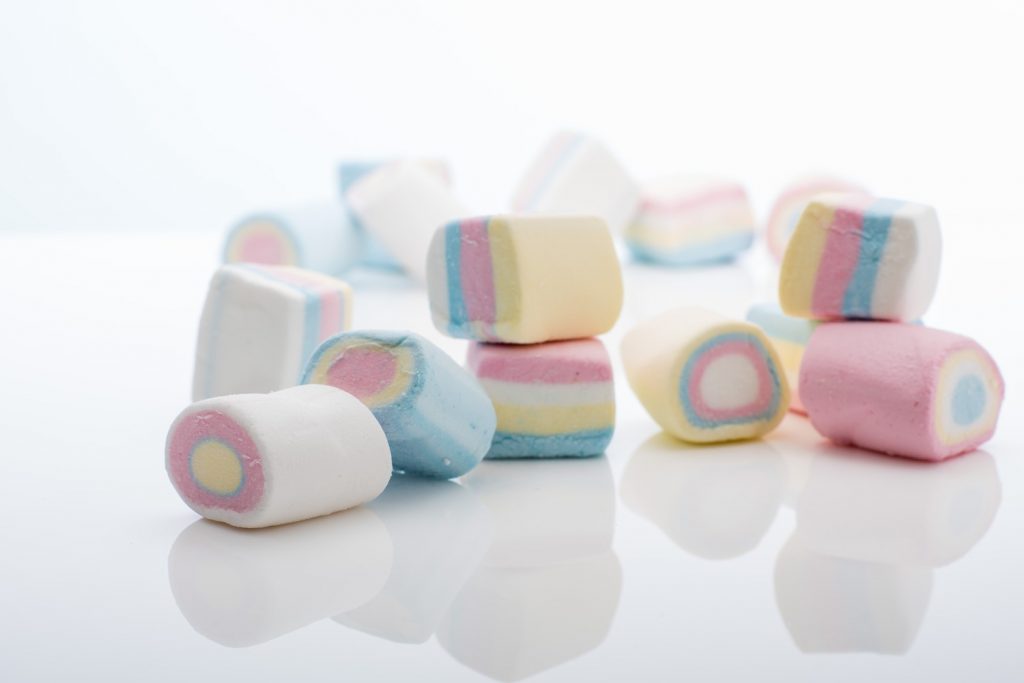 Finding The Sweet Spot By Designing For 3D Printing
by Clara | November 19, 2021
Confiserie Van Damme produces over 19,500 tons of marshmallows in different shapes, sizes, and varieties every single year: a delicious product with small margins that requires relatively expensive machinery. And that's where our parent company Materialise's advisory team Mindware came in. With their knowledge of design for 3D printing, they could efficiently translate an essential machine part for design — the nozzle — into something customizable yet more affordable. 3D printing's design freedom and short development time was an essential key for the company to open up production, with new designs for clients that they previously had not been able to work with.
Part of being able to introduce new styles of marshmallows is having a unique nozzle that can pump out marshmallow cream in the correct flow, shape, and separation of colors to create a particular design. Typically, a single nozzle consists of 12 metal parts that are welded together and a nut. The conventional piece is designed as part of a complex assembly and has a high production cost.
Confiserie Van Damme has three state-of-the-art production lines, and each is equipped with 28 nozzles per product. Each stainless steel nozzle costs over €1,000 per piece when produced traditionally and typically has a lead time of 8-10 weeks even after design development. They approached Materialise with a request to create a nozzle for a rainbow marshmallow, which is rare in their field due to the design complexity.
Designing for 3D printing
At Materialise, the Mindware team of advisors serves as a network of liaisons with highly skilled specialist departments throughout the company: in this case, Design & Engineering. With 2D input, the Materialise D&E team started to work according to the design rules for 3D printing. They were given the drawings for a traditionally produced nozzle with many parts involved with which they used their engineering knowledge to design a nozzle that could be 3D printed in one piece. This nozzle was designed with multiple chambers, one for each color, that enabled the flow of different colors of marshmallow creme to come together into one cohesive shape. This complex design process is still comparable in the amount of time it takes to design for a traditionally manufactured part. The real difference comes in the production process and benefits of a nozzle that can be produced all as one part.
Polyamide, a plastic material, was used to prototype the initial test prints. The 3D-printed plastic part replaced one nozzle in production to test the functionality. The test was able to confirm that the nozzle worked perfectly fine.
Polyamide goes beyond a prototyping material
However, because the nozzle in Polyamide worked so well in the production test, Confiserie Van Damme decided to explore the possibility of replacing the metal component with just the original prototype material. They sent the Polyamide material to get independently tested for food safety. The Polyamide nozzle gained certification according to the International Featured Standards (IFS) and British Retail Consortium (BRC) Global Standard for food safety. These certifications ensure supplier compliance and secures retailers' ability to guarantee the quality of their food. Furthermore, the nozzles are able to be cleaned thoroughly.
This meant Confiserie Van Damme could just use the prototyping material for the nozzle rather than producing the final design in stainless steel metal. The Polyamide nozzle was ten times less expensive and delivered in a week in comparison to the traditionally produced one which cost €1,000+ in addition to the 8-10 week lead times. Even if they wanted to 3D print it in Stainless Steel as originally planned, the part would still have been less than €1,000 and could arrive within two weeks. Now that Confiserie Van Damme was able to use Polyamide as the final part material, they could benefit from additional time and cost benefits all while retaining the quality of the marshmallow production.
Welcoming new customers
In the future, Bart Desnyder, CTO and Corporate Buyer for Confiserie Van Damme, foresees being able to offer more customization like logos or brand shapes for customers. Previously, the investment for a new design involved complex and time-consuming development to produce a traditional steel nozzle. This all adds up to being cost-prohibitive for any smaller productions of specialty shapes.
Now that the nozzles can be developed and produced at a non-prohibitive price and in a relatively short time, they will be able to attract new customers with their offering and stand out from competitors.
As Bart shares, "It's not that we have a bigger margin on special products, it's more an open door to customers because we can offer special shapes. We are not the only marshmallow producers, and if we can offer something they really want, then we can see this as a competitive advantage." He goes on, "There have been demands in the past that we had to turn down. It would be different if we know what we do now after working with Materialise. Indeed, our sales team is very enthusiastic about this opportunity."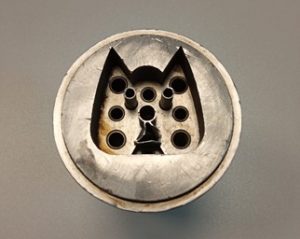 Sweets, toys, cars — 3D printing holds so many possibilities! What will your next project be? Upload a model today to get started.