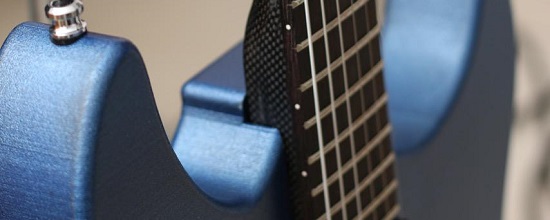 3D Printed Guitars: 3D Printing Hitting the Right Note
by Darya | January 26, 2015
If music is your passion, it influences every aspect of your life. If you are an engineer, you constantly seek new ways to explore and experiment. What happens when these two worlds collide?

Meet Salvatore Capuano. His two biggest passions in life are music and engineering, so naturally, one day he decided to combine the two and started a hobby making guitars. Ten years ago he was working as a research & development engineer at a university in southern Switzerland. Salvatore convinced his colleague from the laboratory for composite materials to help him build an electric guitar made of carbon fiber. Six month later his first guitar was complete.
From then on, Salvatore started building guitars, both electric and acoustic ones, from woodby hand. During these 10 years, he created 20 guitars from mahogany, rosewood and even a 50,000-year-old prehistoricwood called ancient kauri, but his passion for engineering meant he wanted to go further and seek new challenges.It was then that Salvatore started exploring 3D printing and decided to create a 3D-printed guitar.
After designing some toys and jewelry together with his 8-year-old daughter and mastering his design skills on a copy of an engine for a radio-controlled airplane, Salvatore was ready to design his first guitar in 3D.
The challenge of this project was to design a guitar that does not need any post-processing steps except for painting and adding on essential components that cannot be printed, such as strings. Salvatore successfully met this challenge.
The electronic cavity cover is connected to the body by a hinge that is printed, so therefore doesn't require assembly, and is kept closed by a magnet. The guitar body is hollow and Salvatore added something that can be done only by using 3D printing – a set of spinning gears, printed directly inside the guitar. Finally, all the holes that Salvatore would normally have drilled by hand were incorporated into the design instead.
"The final result was fantastic. When I received the guitar body, I opened the box and I couldn't believe what i.materialise was able to do. The body was simply perfect! The final assembly was really easy: in 1 hour I completely set up the guitar body with pickups, bridge, electronics,etc., and I didn't need to drill any holes.The only part that was missing was the neck: I still needed to build it.

Looking around my cellar I found an unfinished carbon fiber neck I built about 10 years ago for a project I did with my colleague at the university. It was the perfect neck for this guitar! So I built the neck and by the time I finished it was too late in the night to test out the complete guitar so I had to resist the temptation. I didn't sleep at all that night – I was like a child the nightbefore Christmas! The day after I did a quick test and was blown away by the sound of the guitar! I didn't expect it: it's warm, clear and defined. I was really excited!"
Salvatore has recorded a sound sample that can give you an idea of the sound of his 3D-printed guitar:
"Considering that I was completely inexperienced in 3D design or 3D printing, this is really an enabling technology and with i.materialise, with their quality and their technology, you will get fantastic results. Give it a try and you will be absolutely satisfied."
If you follow the advice of Salvatore and print some of your challenging projects, don't forget to let us know so we could share your story as well – just post it in our forum.