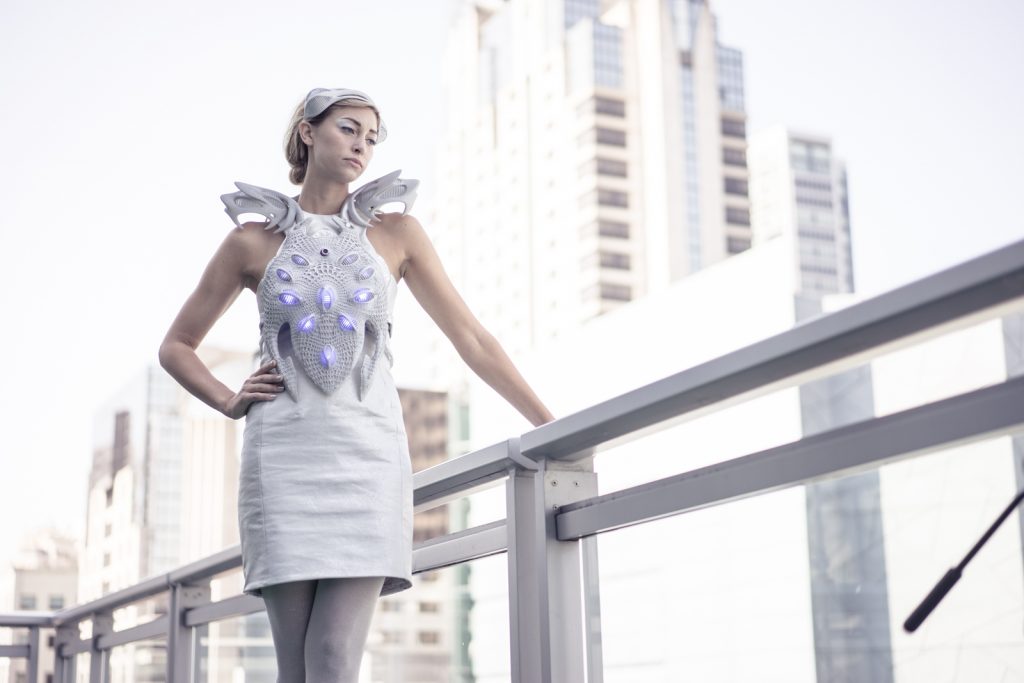 3D-Printed Fashion: 10 Amazing 3D-Printed Dresses
3D printing is shaping the way we design and produce unique fashion pieces. In this top 10 list, we take a look at the most stunning 3D-printed dresses from talented designers and learn how this cutting-edge technology is already changing the fashion industry.
1. Spider Dress 2.0 by Anouk Wipprecht
This bad-ass 3D-printed dress simulates the territorial instincts of a spider by using robotic arms that react according to data they pick up from motion and respiration sensors. When the wearer's breath becomes heavy, the sensors read that she feels threatened so, in response, the robotic arms of the dress will extend to defend her.
2. Dress from the Voltage Collection by Iris Van Herpen and Julia Koerner
This stunning dress is the result of Iris Van Herpen's collaboration with Julia Koerner and Materialise. Together they were able to prove that normal rules don't apply when fashion and high technology combine. The piece's intricate lace-like texture was created with precision by lasers (in a process known as Laser Sintering) and would have been impossible to realize any other way.
3. Smoke Dress by Anouk Wipprecht
Anouk created the innovative and interactive 3D-printed Smoke Dress as part of a special eight-piece fashion collection for Volkswagen. When someone steps into the wearer's personal space, the dress automatically unleashes a veil of smoke.
4. Incunabula Dress by Kaat Debo, Alexandra Verschueren and Tobias Klein
Kaat Debo wanted to bring a fresh perspective to the way we nowadays perceive fashion from 1914. Kaat envisioned a garment that represents the tension between the "desire for ornament and the search for the modern". Finding inspiration in Irish crocheted lace, a popular trend in the 19th century, she came to Materialise to 3D print the dress to satisfy her need for the modern. She found that her vision aligned well with designer Alexandra Verschueren and artist/architect Tobias Klein and the idea for the Incunabula Dress was born.
5. Smock Corset by Marina Hoermanseder and Julia Koerner
Austrian designer Marina Hoermanseder teamed up with architect Julia Koerner to create a unique 3D-printed fashion piece: the Smock Corset. They produced the most vintage-meets-modern piece of them all: a corset, re-imagined and re-invented. This is what happens when fashion and architecture meet 3D printing!
6. Interdimensional by threeASFOUR
In 2016, New York fashion trio threeASFOUR came to Materialise and Bradley Rothenberg to print one of the creations of their 'Interdimensional' collection. The challenge with this dress was using the 3D-printed surfaces as pattern pieces, just as if they were fabric being cut into pre-patterned sections of the dress, making it a perfect embodiment of the blend of handmade and machine-made throughout the exhibition.
7. Synapse Dress by Anouk Wipprecht
The Intel Edison-powered Synapse Dress has the capacity to log actions, making both the wearer and others aware of sources of stress in the immediate environment. The dress's headpiece is fitted with a sensor that tracks the wearer's attention level. Not only does this function track your attention span, but it also tells others not to disturb you while you are concentrating on a difficult task. Another sensor embedded in the dress monitors proximity: if the wearer feels someone is invading her personal space, the lights in the dress can give off up to 120 watts of brightness, signaling to the other person to step away.
8. Skeleton Dress by Iris van Herpen and Isaïe Bloch
In collaboration with Belgian architect Isaïe Bloch, Iris van Herpen created this somewhat scary dress in the shape of a skeleton. It was inspired by the anatomy of various different animals and took an entire week to print.
9. Vortex Dress by Laura Thapthimkuna
Fashion designer Laura Thapthimkuna worked on this space-inspired 3D-printed dress. Her fascination with the universe and the theme of infinity were the driving forces behind the stunning design: "I think what makes the dress different is the concept behind it and the overall design. I really tried to do something quite different and very sculptural. I wanted to create a dress with no apparent beginning or end to it structurally. Something organic-feeling with mathematical elements."
10. Gems of the Ocean by Melinda Looi with Samuel Canning
Fashion designer Melinda Looi's 'Gems of the Ocean' collection includes one of the world's first full-length gowns to be 3D printed as a single part. It also comes with unique 3D-printed accessories straight out of a mermaid's world.
For more articles about 3D-printed fashion, make sure to read our blog post on how 3D-printed footwear is changing runways and racetracks around the world. If you are thinking about printing your own fashion design, simply upload your 3D model to and online 3D printing service and choose from over 100 high-quality materials.
Recommended Articles