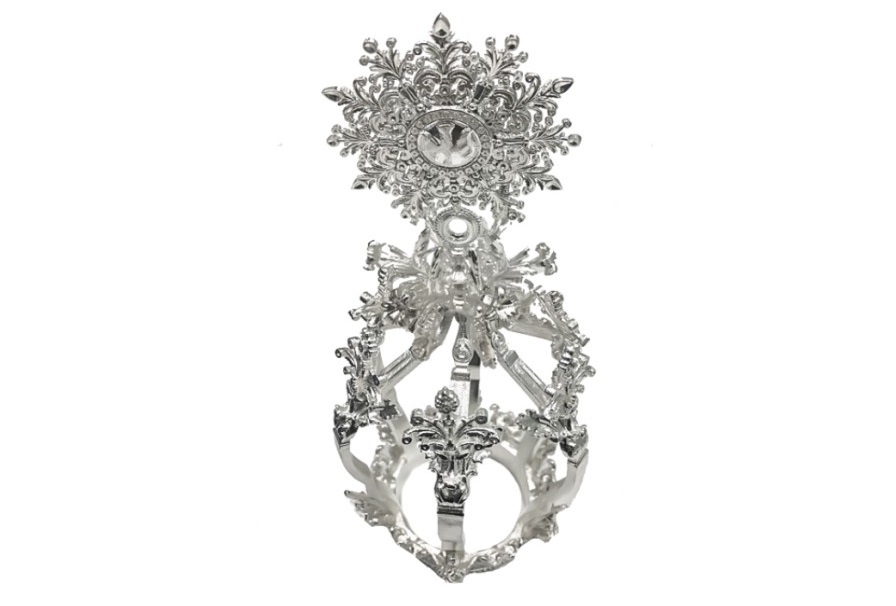 3D-Printed Crown Replica Dazzles in the Cathedral of Antwerp
Churches are often extraordinarily decorated with grand stained glass windows and large altars. Many religious relics are displayed in the hidden nooks of cathedrals, and this is no different for the statue of Mary and her noble crown in the Cathedral of Antwerp.
Belgian 3D design experts Mindscape 3D are specialists at re-creating items with historical value – their experience ranges from virtual reality to 3D. They received an interesting request from an Antwerp-based jewelry designer called Bijorca, to create a model of Mary's intricate crown with 130 precious stones, for a church guild to give to the bishop. Mindscape 3D has previous 3D design and software experience for intricate designs, and combined with the expertise of the goldsmiths at Bijorca, they knew what to look out for when designing jewelry. However, a crown has many delicate and small details and elements. How could they recreate them in 3D?
Mindscape 3D, who has previous experience in creating historic replicas, such as a 3D printed version of the Antwerp City Hall, was up for the challenge of creating Mary's crown due to its historic value. The timing of when the final piece was supposed to be ready did not match with traditional manufacturing techniques which is why Bijorca and Mindscape 3D decided to turn to i.materialise.
To be able to visualize what kind of design was needed for the replica, the original piece, located in the Cathedral of Antwerp, was 3D scanned. Since the final design had to be three times smaller than the original scan, Mindscape 3D decided to re-design the crown on graphics program Lightwave to avoid problems such as details that are too thin or too small. The design of the crown needed a lot of adjustments, and Lotte Gielen from Mindscape 3D was thankful that "i.materialise helped us detect all problem areas that had to be fixed before printing."
Before making the final piece in silver, Bijorca and Mindscape 3D first made a test print in white Polyamide (SLS) – even though they were able to take care of any errors with software and with the i.materialise team. The production of the crown required a lot of back-and-forth between i.materialise, Mindscape 3D and Bijorca, to get it just right. Olha Alekseyuk, from the i.materialise Customer Support team adds that the team "pre-checked the files for feasibility and only when we were sure that it could be printed, it was time to print the actual file".
Once Bijorca and Mindscape 3D saw the test print, they were happy with the fruit of their labor and placed an order for the same design in silver. The 3D printing technology used to produce the parts in silver is a different process than techniques in plastic.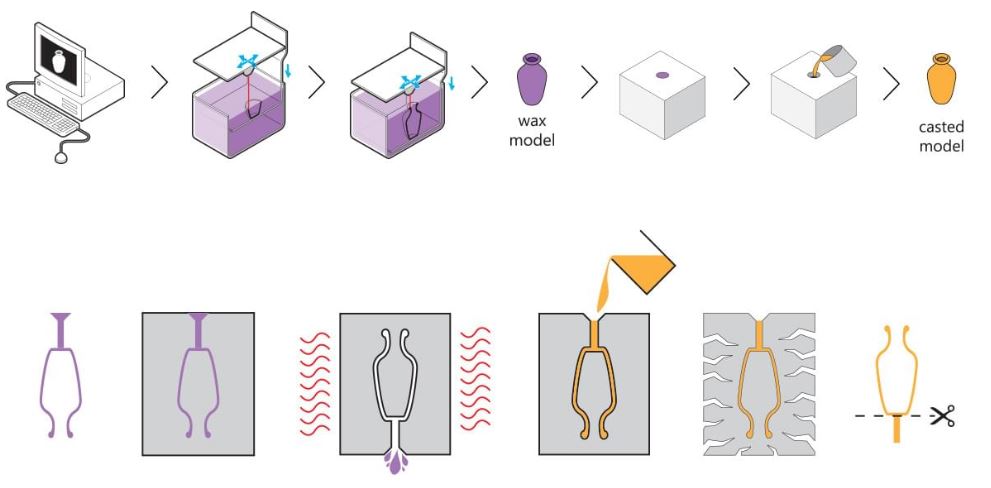 First, a wax-like model is printed, which then is used to cast a mold. The mold is then placed in plaster, and once dry, the wax is burned out. The cavities of the plaster are in the same form as the mold, so once silver is poured in and cooled down, the final silver part can be broken free from the plaster.
The crown consists of 14 small pieces made in silver. Lotte Gielen from Mindscape 3D says they were very happy with the results: "We were impressed with the crown and our client, Bijorca, was ecstatic with all the fine details that could be replicated and to which stones and diamonds could be attached".
The crown, in the end, is no bigger than an A5 size piece of paper, so the details were quite delicate and only jewelry experts would be able to put it together. The meticulous assembly happened at Bijorca's atelier in Antwerp, and took three months in total, out of which two weeks were dedicated to putting the precious stones on the crown. Cedric Verhille, from Bijorca was happy with how the end product came out: "The end result is a mixed-feeling, because we worked on it for so long and didn't expect it to be so difficult. It was a relief seeing the crown come to life – the big reveal was a beautiful moment".
The timing was quite tight, and for an event, deadlines cannot be moved. The well-rounded, skilled work by the i.materialise team, together with expert knowledge from Mindscape3D and Bijorca, showed that a three-way collaboration can produce a beautiful piece of art.
Don't hesitate and start 3D printing your designs using silver, or any of the other materials that we offer at i.materialise.
When you're ready, simply upload your 3D model to our online 3D printing service and choose from lots of high-quality materials, colors, and finishes.