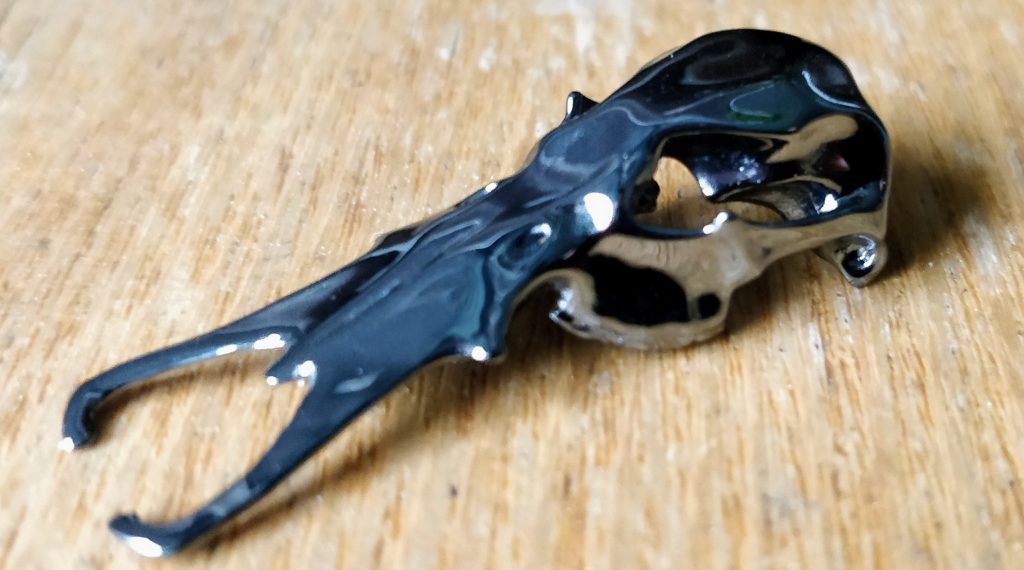 3D Artist Sculpts From Scratch And Prints A Platypus Skull
Mastering the art of 3D sculpting is no easy feat, particularly when it comes to creating something from nothing. Montreal-based Thomas Dotheij is a 3D artist and has been sculpting his whole adult life – he has even made a career from that as a visual effects technical director. Yet sculpting from scratch is a whole 'nother ball game that he wanted to try out.
So he opened ZBrush, started with a sphere, and after meticulously detailing the intricate nooks and crannies based off photos of a platypus skull, came up with a 3D sculpt that he was proud of.
He previously used other techniques to create 3D sculpts, such as taking an existing 3D scan and sculpting over it. For this one, since he has a strong interest in sculpting, Thomas wanted to create something from the very beginning and practice his interpretation from 2D to 3D. He created a sphere in ZBrush to state and referenced various photos of platypus skulls, which he admits are not the easiest to find, especially of the bottom of the skull. By using the different angles he sculpted the model as accurately as he could.
Timelapse of the sculpting of the platypus skull.
He thinks sculpting like this is a lot of fun and that it is like real-life sculpting but more forgiving – if a mistake is made, it is easy to fix. "For me, it's easier to sculpt in 3D than in 'real' sculpting, but the downside is that you cannot really hold them."
This is why Thomas opts to print some of his favorite sculptures and be able to handle them.
Printing the skull
Why a platypus skull? Thomas thinks of the platypus as his spirit animal, which he was inexplicitly drawn to. He says that he is intrigued by it because it is extravagant in its biology and is an interesting, weird creature. He even calls himself the 'winged platypus' and has been making platypus-related artwork for some time now.
He had already used i.materialise in the past to 3D print gifts for his sister and a friend, and was quite happy with the results: "I had printed through i.materialise a couple of times before and was very impressed with the quality, so I decided to print with i.materialise again. Especially for printing in metal, I wanted to go with a service that I know has a very high quality."
He likes that the i.materialise system is automated in the sense that he can upload his design and know immediately if there will be printing errors. Using this upload platform, he can easily see which parts are too thin to print so that he can rework the model make those parts thicker. He had to do this twice to know that it could be printable. "I checked the design guidelines before printing to make sure I was not completely off, but the visualizer when you upload the model was very useful to know specific information on what to change, such as the wall thickness."
His previous print, one of a bird skull, was made in silver and had an antique finish. He liked the finish and effect it left and was keen to try out some of the other materials and finishing options.
Choosing the finish
For the platypus project, he opted for brass with a black color plate. "I'm impressed with the amount of available finishes – it's a really cool thing to try out different looks. I'm very happy with the finishes I've tried out so far and am looking forward to trying more in the future."
Brass is a precious metal offering with a wide variety of finishes available and an ability to create highly-detailed prints, even if the print is on a smaller scale. Thomas knew that with this project he wanted a more petite figure, but required a material that could keep the details he worked so hard to sculpt. Brass turned out to be the perfect material match for his project and the cool, black finish adds quite an impressive look to the skull.
Upon receiving his skull, a 3D-printed version of the first-ever model he built from scratch himself, Thomas was amazed by the result. We're thrilled that Thomas is pleased with his platypus skull and can't wait to see what he comes up with next.
Ready to print your designs as well? Upload your design to i.materialise and get ready for impressive results, just like Thomas'!