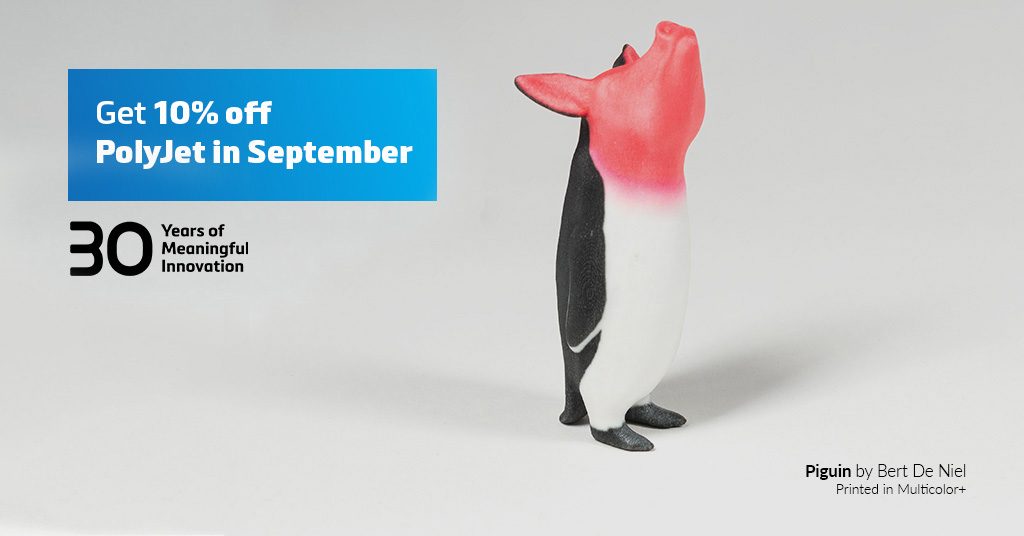 30 Years of Innovation: Multiple Colors in One Print with PolyJet
by Maddie | September 1, 2020
On June 28th, we celebrated our 30th anniversary, and we've been celebrating every month since by highlighting a different technology on our blog. The focus for September? PolyJet. And you can save 10% on Multicolor+ and High-Detail Resin prints, the materials that use this technology, during September by using the code 30Y_PolyJet at checkout.
When PolyJet was first introduced in 2000, it gave a new spin to resin-based 3D printing — it was a technology that could print parts consisting of more than one material. This meant 3D-printed parts could have more complexity, embracing multiple textures from differing materials. As the years went on, Materialise and i.materialise brought PolyJet into their technology portfolios, and the technology's materials continued to develop, introducing additional color and transparency options that result in attractive, fun, and valuable applications.
Printing complex parts
PolyJet printers work by jetting photopolymer materials via cartridges onto a platform and immediately curing it with a UV light. The printer can connect to multiple cartridges, meaning a gel-like support and more than one material can be deposited at once, resulting in a complex part.
At i.materialise, we have two different PolyJet materials: Multicolor+ and High-Detail Resin. Multicolor+ provides a wide range of colors and High-Detail Resin results in accurate, detailed, and rigid parts.
These options make PolyJet a perfect fit for display pieces and prototypes. The huge range of hues suit colorful parts or can highlight significant areas in a print. These types of models enable artists to incorporate more depth into their pieces.
"PolyJet enhances our portfolio not only because of its practical purposes, but also because it enables 3D printing users to have fun with their designs." – Herwig Frans, Production Planner, Materialise.
As the years have passed, the technology has been continuously fine-tuned to meet users' needs — from increased color options to improved printers. These introductions gave the users more creative license and increased the possibilities for their prototypes and models.
Making a difference
PolyJet not only enables incredible designs from our artist community on i.materialise, it's also empowered powerful innovations from Materialise's medical unit.
As a technology fit for the creation of models, it naturally led the Materialise team to explore how PolyJet can contribute to 3D-printed medical advancements. An example of this endeavor is HeartPrint. This 3D-printed heart model is printed using PolyJet because it enables a realistic, detailed result.
Thanks to expertise from both the medical and manufacturing teams, they realized that PolyJet was the perfect method to combine anatomical accuracy empowered by 3D printing's freedom of design with the multicolor option to create a detailed, informative part. The result was HeartPrint, cardiac models that improve medical training and preoperative planning.
With these types of medical advancements in mind, Materialise teamed up with Stratasys in 2018 to receive FDA clearance for both the PolyJet technology and Materialise Mimics inPrint software, another step toward advancing Point-of-Care 3D Printing in hospitals.
These technologies allow hospitals and doctors to better understand their patients' anatomy and therefore enhance personalized medical care. The software converts 3D scans into highly accurate, virtual 3D anatomical models that can be printed with the benefits of PolyJet. And with FDA clearance, these medical professionals and their patients gain confidence in a certified process that produces high-quality models.
PolyJet's impressive capabilities mean it has a promising future in the 3D printing world, especially as personalized treatment becomes more and more prevalent. This unique technology has a solid spot in the industry, not only creating beautiful pieces but also enabling incredible advancements in healthcare.
Strengthening our technology-neutral offering
At i.materialise, we pride ourselves on a wide technology and material offering, so PolyJet was a natural fit into our portfolio. It's often the perfect choice for artists and designers looking to add color or for manufacturers testing their concept pieces. With our decades of experience and various technologies, we have a deep understanding of which applications every technology works for and can work closely with customers to understand their needs and turn them to PolyJet when it's the best option.
"PolyJet enhances our portfolio not only because of its practical purposes, but also because it enables 3D printing users to have fun with their designs," shares Herwig Frans, Production Planner at Materialise. "The multicolor capabilities provide customers with the opportunity to make unique, versatile parts that other 3D printing technologies can't create in one piece."
Celebrate Materialise's anniversary with 10% off every Multicolor+ and High-Detail Resin print ordered on i.materialise until September 30, 2020.

Enter code 30Y_PolyJet at checkout to save.