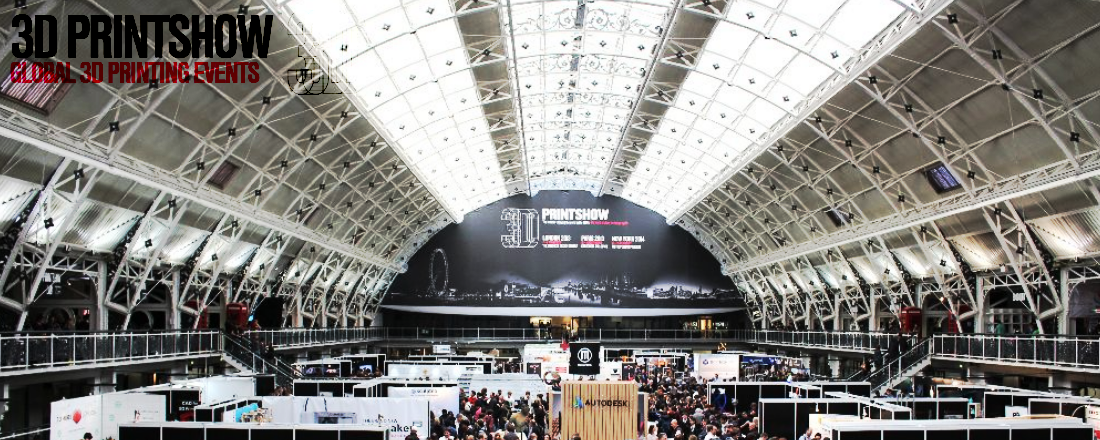 10 MUST SEE Speakers and Exhibits at the 2014 London 3D Printshow
by Roxy | August 8, 2014
The 2014 London 3D Printshow is approaching, fast! Starting on September 4th, it promises to be one of the biggest 3D Printing events of the year.
i.materialise will join exhibitors that include Adobe, Autodesk, and 3Doodler directly in the heart of London, deep inside the vaulted, Victorian halls of the historic Old Billingsgate building (click here for directions.) We hope to connect with you there! Our outreach team will be on hand to answer your 3D printing questions.
We are also giving two of our very own presentations on:
Friday 05, 2014 at the Open Stage
Saturday 06, 2014 at the Open Stage
Read on for other worthwhile events and speakers!
Events
Knowledge Bar
Presented in association with 3D printing industry news blog Fabbaloo, the Knowledge Bar gives impartial answers to any and  all  3D printing questions. From materials to costs to "which printer is right for you," The Knowledge Bar is here to help you make informed decisions about 3D printing. Incidentally, it is also the most "connected" booth in the entire convention. If you're lost, bored, or just want to know which parts of the Printshow align with your interests, be sure to ask Fabbaloo's very own Marney and Kerry!
Time and Date: Ongoing throughout the London 2014 Printshow.

Creators Corner
See live 3D printing at the Creator's Corner! Real-time 3D printing and modelling will be on display, and visitors have the chance to get involved in the fun!
The Fashion House
This exhibit features the most beautiful and original 3D printed fashion of the year. From wearable tech to elaborate haute couture pieces, jewelry through to shoes, come see this stunning one-of-a-kind fashion display!
Scan Zone
Create a high-detail 3D scan of yourself. My 3D Twin will set up a scanning zone where you can get yourself scanned and 3D printed as a realistic, highly detailed figurine.
Jesse Harrington Au's Autodesk Workshop
AUTOCAD. Program Manager Maker.
This workshop, "The Future of CAD," will show current and future technologies that will change the way people use 3D printing and digital manufacturing.
When & Where: September 05, 2014 at 3:00PM on the Open Stage
Sophie Kahn's Digital Sculpture Exhibt
Award-winning Sculptor, New York Foundation for the Arts Digital and Electronic Arts Fellow.
Sophie Kahn's work is unlike any other sculpting you may have seen. She combines innovative means of production (i.e. 3D laser scanning and 3D printing) with ancient bronze casting techniques made from using damaged 3D data. The result are old-fashioned sculptures that appear as touchable, real-life "error files." Her artwork has been  exhibited in New York, Los Angeles, Paris, Sydney, Tokyo, Osaka, Seoul… and her return to London is a much-anticipated, can't miss event!
When & Where: September 05, 2014 at 3:00PM on the Open Stage
For more features, click here!
Speakers:
Cyndi Tetro
3DPlusMe (Founder). Disney (technology consultant).
Topic Name: Personalized 3D Print Adoption in Retail and Brands: From Capture to Print
Summary: How large companies such as Disney and EA are using 3D capture technology to transform digital and physical products for retail product marketing.
When & Where: September 04, 2014 at 12:00PM on the Specialist Stage
Winston Hendrickson
ADOBE. Vice President of Digital Imaging (Photoshop, Lightroom).
Topic Name: A Glimpse Into the 3D Future: Enabling Designers to Realize their Creativity in the Physical World
Summary: This session will showcase Adobe's passion and effort to empower the full spectrum of creatives to produce high quality, full color, 3D printed content.
When & Where: September 04, 2014 at 10:00PM on the Open Stage

Leon Tan
Autodesk. Senior Marketing Manager.
Topic Name: Autodesk's 3D Printing Platform: Sparking Innovation
Summary: An introduction to Autodesk Spark, an open 3D printing software platform. In English, Spark connects digital information with 3D printers. It allows users to visualize and optimize their designs for print, and broadens the range of acceptable materials.

Ann Marie Shillito
Anarkik 3D Co-founder.
Topic Name: Passionate About 3D Printing But Can't Do CAD
Summary: This talk covers how a haptics, touch-based 3D design and modelling interface enables non-CAD users to easily and quickly create projects in 3D. As an alternative to traditional mouse-based CAD software or 3D design apps, haptics tools are entirely touch- and movement- based. Specifically, they transfer your physical movements into the computer, so you can "hand-make" a digital file without specialized 3D design software skills. they allow users to use their sense of touch and feel to create a digital object without specialized 3D computer aided design skills. Anarkik 3D will explain how haptics can liberates users from relying entirely on keystrokes, programming, or a mouse.
When & Where: September 06, 2014 at 3:00PM on the Industry Stage
Pete Falco
ADOBE. Lead Engineer for the 3D functionality in Photoshop.
Topic Name: Easy Preparation of 3D Models for 3D Printing
Summary: Pete Falco, the technical lead for Adobe's 3D initiatives, will show you how you can use Adobe Photoshop CC to easily finish and prepare 3D models for 3D printing.
When & Where: September 06, 2014 at 12:00PM on the Industry Stage
These are just a few of the many innovative exhibits on display. See more by clicking here!
Which exhibits will you attend? Tell us in the comments below!