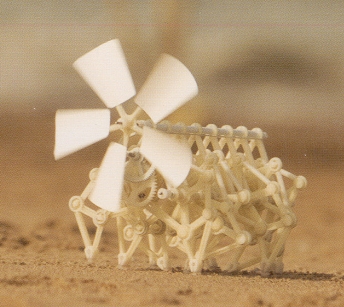 If you"ve not yet heard of Dutch Artist Theo Jansen you should probably take some time to watch the video below and watch his TED talk.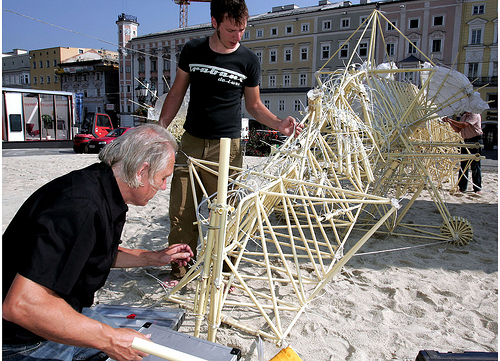 Image of Theo Jansen working on a large strandbeest together with an assistant. Creative Commons Attributution, Ars Technica.
Animaris Umerus walking – June "09 from Strandbeest on Vimeo.
The Jansen uses plastic tubing to create creatures that roam on the beach. Strandbeest means "beach animal" in Dutch and this is what Theo is trying to create. He"s been doing this for 20 jears and it is simply put amazing. Really truly amazing. Really, watch the videos. He "s continually improving his creatures so they can use wind power  to navigate the beach and hopes to let the creatures move autonomously in herds. Its a little bit insane in its scope, size and ambition. But, as far as art projects go, this is my single most favorite one ever. The creatures now store wind power, can come in weights of over 3 tonnes and even can sense the water. Now you can buy your very own Strandbeest. Its a small kit and costs 35 Euro. The wind powered creature is called the Animaris Ordis Parvus and you can get it here.