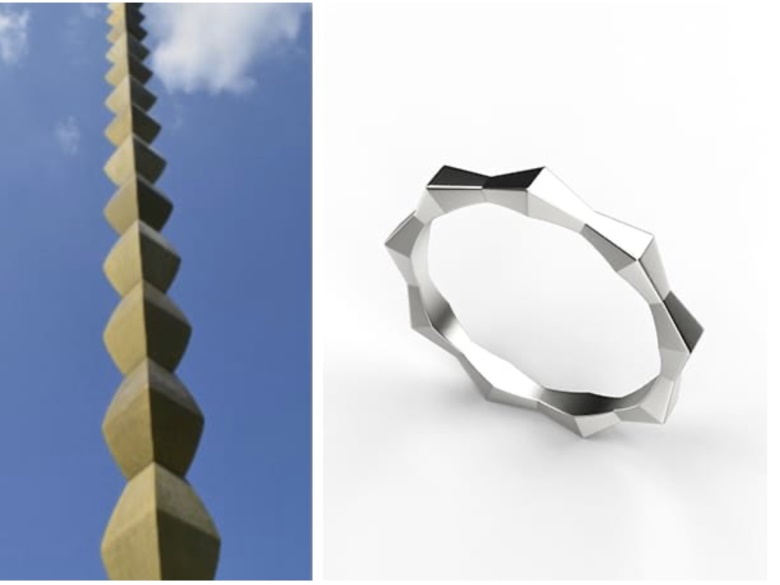 Description
The Column of Infinity, Romania architectural ring - Collection Archi Dream
Initially named the Column of endless gratitude, it was dedicated to the Romanian soldiers killed in battle in World War I.
This architectural ring renders through its design a detail of the Column of Infinity (Brancusi sculptor), an axis mundi symbol and transmits the patriotic emotion related to the importance of this monument.
More information: www.lajus.gold
https://lajus.gold/en/architectural-rings/the-column-of-infinity-romania-architectural-ring
Mihaela Ciobanescu
Sometimes we want to wear the whole world on our finger as a ring. Far from being simple classical rings, architectural rings represent the innovation, inspiration and attention of their designer, they are conceptual… There are no rules in making an architectural ring, it is simply an incarnation of a dialogue between the creator, the monument witness of the history and universality and the raw material, an algorithm with infinite possibilities. Architectural rings go beyond the idea of fashion or trend accessories, they distinguish themselves as standalone pieces with their own message or statement. The architectural design of the rings is timeless: a history detail, a detail of a brilliant architectural creation, a wonderful universal detail, always with you. So discover them, try them on and enjoy these jewelries in architectural style! If you want personalized models, do not hesitate to contact us, we will make sure you have the model you want as soon as possible! Les bagues architecturales vont au-delà de l'idée « d'accessoires de mode » ou de tendances, elles se distinguent comme des pièces indépendantes, avec leur propre message, déclaration manifeste. Le motif architectural des bagues est intemporel: un détail de l'histoire, un détail d'une création architecturale brillante, un merveilleux détail universel, toujours avec vous. Alors, découvrez-les, essayez-les et profitez de ces bijoux: différemment, dans un style architectural! Si vous voulez des modèles personnalisés, n'hésitez pas à nous contacter, nous nous assurerons que vous aurez, dans les plus brefs délais, le modèle que vous voulez!