by Micah Ganske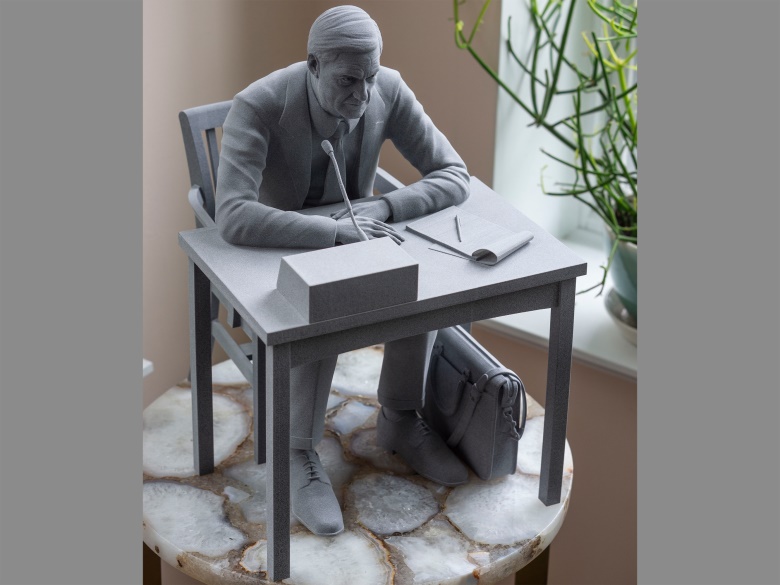 Description
"Whatever we do, we must act with honesty and with integrity, and regardless of your chosen career, you are only as good as your word."
Robert Mueller spoke these words at his granddaughter's high school commencement ceremony 12 days after being appointed Special Counsel. He is a man who has devoted his life to protecting this country and its citizens. He embodies honor and integrity.
The Trump administration, it's devotees in congress, and the right-wing media have done nothing but besmirch the character of Robert Mueller and spread disinformation about the investigation he has been tasked to lead. As an artist it doesn't feel like I can do much, but I can create something to honor Robert Mueller and his service to this country.
This sculpture depicts former FBI Director Mueller speaking truth to power as he testifies before congress about Russian collusion and the conspiracy against the United States that Donald Trump is responsible for. The sculpture features an exact replica of a senate testimony microphone, a pen and legal pad for him to take notes, and his briefcase. I eagerly await the day when the event this sculpture depicts becomes reality.
To help combat the actions of this illegitimate president and the historically corrupt and immoral Trump administration, all proceeds from this sculpture will be donated to the ACLU so that justice and the rule of law may be upheld for those who cannot defend themselves.
Pricing Breakdown for Full Transparency:
Basic printing cost*: $1128.75(natural grey) $1132.24(dyed black)

Donation to the ACLU: $250.00

*You get a discount with i.Materialise based on how many you order at once, so you can save a few bucks if you want to buy a few for friends and family.
Micah Ganske
I'm an artist and I like to make stuff that I can share through the magic of technology! Learn more at www.micahbot.com