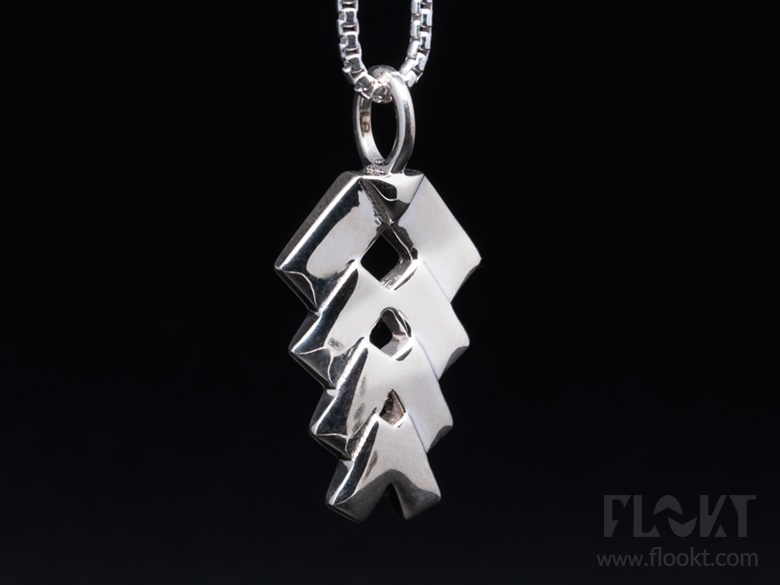 Description
This pendant is inspired by the unique look of a Japanese gohei (御幣). It is frequently encountered at Shintō Shrines throughout Japan and it is meant to have cleansing and sanctifying properties.
The gohei's characteristic shape has been carefully transferred into the pendant without losing its aesthetic recognition value. The minimalist and geometric simplicity of the pendant reflect its beauty and profound meaning in an elegantly humble way, just like a real gohei does.
(Necklace not included)
Material & Finishing (as in the pictures)

Silver: High Gloss
Eyelet dimensions

≈ 3.8 x 2.8 mm | 0.15 x 0.11″ (Oval shape)
┈┈┈┈┈┈┈┈┈┈┈┈┈┈┈┈
Flookt – Every piece inherited with a personal sense for minimalism, perfectionism and sophistication. Independently brought to life by the technology of 3D printing and the brain of an Austrian eccentric.
Take a gander at my other products:
i.materialise.com/shop/designer/flookt
Check out Flookt on Instagram:
It's great to get some feedback! Contact me directly by mail for questions, suggestions … or philosophical stuff, whatever!
Florentin Oktavian Hartl
My name is Florentin Oktavian Hartl and I live in the cities of Vienna and Linz, Austria. The meaning of Flookt is me – quite literally. Thus, I care for every one of my works, aiming for the highest level of quality possible to satisfy my mind and, above all, to meet the expectations of everyone who supports Flookt. I have a deep interest for Japan, minimalism and geometrical beauty, and I enjoy finding new ways of combining these three elements. Enjoy!