by Wild Ideas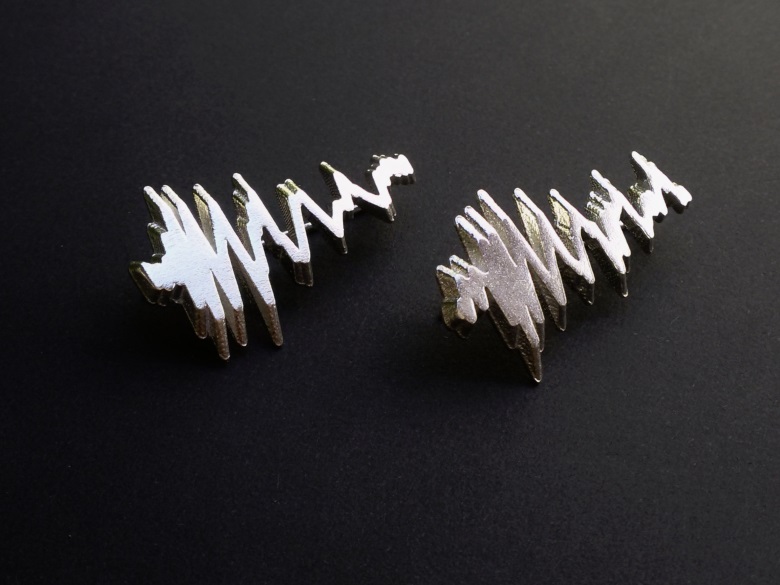 Description
NOTE: This earring has a matching twin product. If you prefer a single earring, pick the one you like best. Otherwise, we recommend you buy one of each. You will understand why, if you read the story below.
=====
Celebrating the recent observation of gravitational waves, predicted 100 years ago by Einstein, we created a pair of earrings with the shape of the data released by the LIGO twin observatories.
In order to be able to observe the gravitational waves passing through at the speed of light, the two observatories were placed far apart at Hanford (Washington state) and Livingston (Louisiana), in the US. Representing this, each of our two earrings is based on the data from one of the two observatories. One observatory at each end of the US, one earring at each side of the head.
This particular model is the Livingstone one. Both models are based on the actual numerical data released by LIGO. We generated the curves using a spreadsheet program and then trimmed, scaled and polished them in a vector based graphical program and finally exported them to SketchUp Make 2016 where we developed their 3D shape.
This design was awarded a 3rd place in the 2016 i.materialise/SketchUp Jewelry Contest.
Wild Ideas
Our mind is in science, our heart in nature. We are a biologist couple, who have been doing all sorts of stuff in the last decade or so, except biology. Rope access construction work, felt wearable art, webdesign, glass fibre sculpting, you name it. We adore all the crazy weird shapes of nature and we are awed by both the massive cosmos and our "pale blue dot", in both its significance and insignificance. Beauty comes in many forms, from mushrooms to gravitational waves. We hope we can share it with you.