by Eitan Cher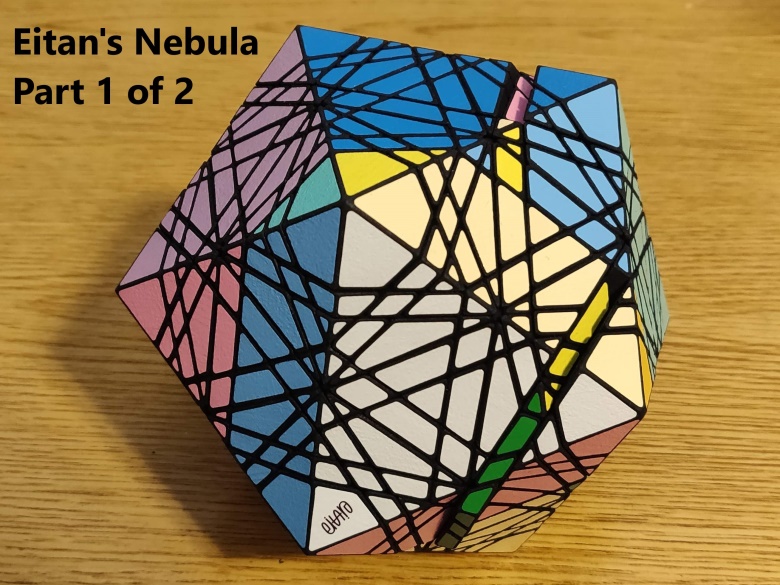 Description
IMPORTANT NOTE: This is not a complete puzzle!
This model does not include the core (as it was more economical to have it in a separate file). To get a complete puzzle, you need to order both this and Eitan's Nebula - Part 2 of 2.
Eitan's Nebula
Eitan's Nebula is a double-layered Face Turning Icosahedron. It is one of my proudest achievements in puzzle design, and it is still the largest successful puzzle I have ever designed.
This new version of the Nebula is even better than the one I first presented back in 2014. The turning is spectacular, and the puzzle is much more stable and robust than it used to be. I tweaked the cut geometry to make some of the smallest stickers slightly larger. I also redesigned the corners to have removable caps, allowing access to the screws underneath.
Note that it takes a lot of work to assemble and sticker this puzzle. It has 767 pieces and 900 stickers. However, it is 100% worth the work. Breaking-in this puzzle is difficult, but once you get the first turn to happen, it is smooth as butter from then on. It helps to apply silicone spray liberally as you assemble the puzzle, and slide the largest pieces against their neighbors a few times before assembling them into the puzzle.
To build this puzzle, you will need:
The model on this page.

The core of the puzzle, which you can find here.

12 x M3 screws, 16mm long. ---- These screws are for screwing the 12 stationary pentagonal pieces to the core. It is not necessary to put screws through the triangular centers.

12 x M2 screws, 16mm long. (#2-56 screws 5/8" long will work well too). ---- These screws are to attach the Corner Caps to the Corner Bases.

A set of stickers from Chewie's Custom Puzzles.
If you would prefer a fully-assembled and stickered copy of this puzzle, please fill out the form on my website.
WARNING: This puzzle's parts are printed in a grid container, which introduces some risk to the dyeing process, as the grid-container makes it harder to clean the powder away before dyeing the parts. The i.Materialise team wants me to make it clear that they cannot guarantee the parts will be completely black. (Though my results so far have been awesome!)
Eitan Cher