by MCODE by Maaike van der Horn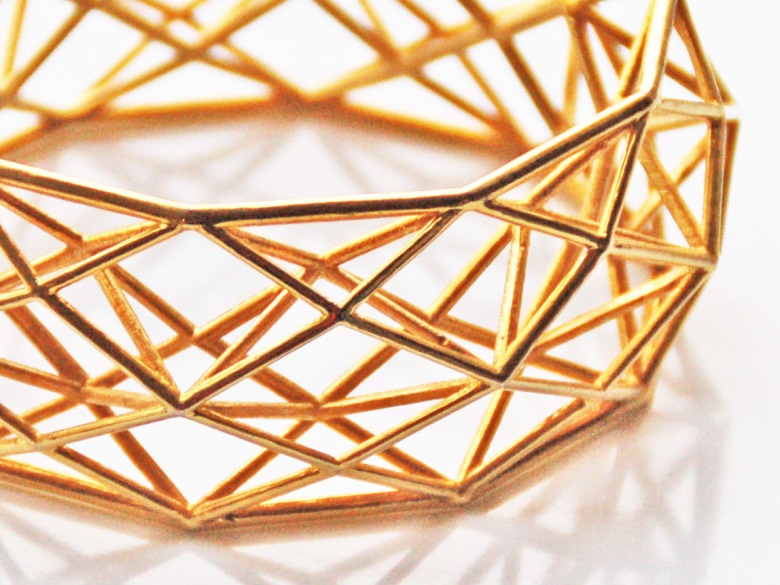 Description
This Constructionist bracelet was inspired by modern architecture and its use of complex repetitive geometrical structures. I am fascinated by how these structures can behave to create buildings and objects that look seemingly organic and unique, buildings that change their appearance depending on the angle you look at them.
This bracelet is an example where new techniques like 3D printing has opened up a world of design possibilities -this bracelet would be impossible to make using traditional jewellery techniques.
Size Small/Medium (6,5 cm opening), let me know if you would like another size.
MCODE by Maaike van der Horn
MCODE jewellery | Innovation in jewellery MCODE jewellery designs are constructed using 3D modeling software and modern innovative techniques like 3D printing. Many of my designs are so complex that they would not be possible without 3D printing, and I love how this innovation takes jewellery design to the next level. Jewellery design for me is the essential freedom. Recent innovations like open source 3D software and 3D printing now enable anyone who is willing to learn (and invest a lot of time…) to make their ideas come to life, without the need for formal training or large budgets. My designs are demonstrations of this freedom of creativity. While I am a student at the Zadkine School for Goldsmithing (The Netherlands), I am completely self-taught using 3D software and 3D printing. My Facebookpage: http://www.facebook.com/MCODEjewellery