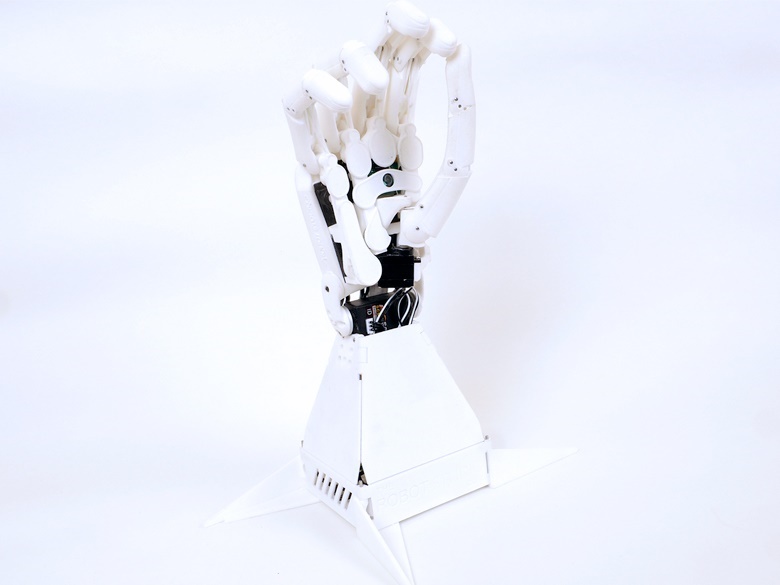 Description
Ready to step up to a professional quality of print?
Get the complete set of prints for the Robot Nano Hand - an introduction to the world of robotics designed by The Robot Studio and powered by Nvidia Jetson AI.
All the parts are printed inside an intricate container that then transforms into the support for the assembled hand itself.
Choose from a range of colours in Polyamide (SLS).
Please be advised that due to the technical nature of this product some light finishing is required prior to assembly. To minimise this we recommend using the standard delivery option and to add "Please print upright with the bottom face with the circular grill parallel to the print bed. Thank you!" in the remarks when ordering. Remarks can be added by clicking the Remarks callout below the payment options selection.
As explained here: https://imaterialise.helpjuice.com/ordering-shipping/3d-printing-orientation i.materialise pledge to always print objects in the best possible orientation, though in our experience the Polyamide Priority (SLS) service may occasionally not be able to accommodate this which will lead to longer finishing times.
For full instructions and the list of additional components required to assemble and control the hand with the power of Nvidia AI please see the comprehensive build guide at www.robotnanohand.com
Welcome to the future of robotics!
*Photos and video are non-contractual: there may be some very minor differences between the appearance of the hand shown and the final version uploaded due to ongoing development.
therobotbuilder
Therobotstudio is a place to create beautiful robots. The aim is to combine the pinnacles of design in mechanics, electronics and AI computing and distribute the tools and information in an open source fashion so that robotstudios can exist all over the world. In this shop, we offer the designs for sale as high quality prints in advanced materials starting with the Robot Nano Hand. If you prefer to print your own, the stl files are available for free download at: https://www.thingiverse.com/thing:3648120