by Shouji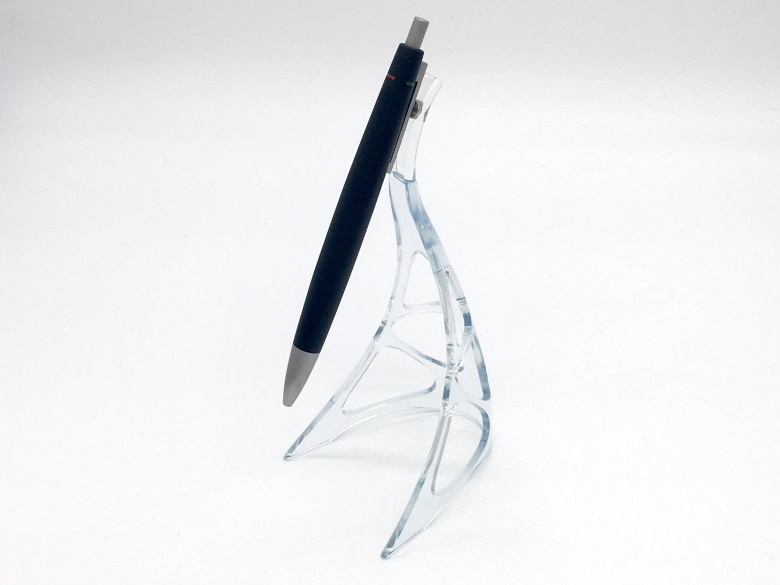 From the front.

Description
Do you want to add surprise, character and elegance to your familiar desk?
Don't you want to eliminate the stress of working in and out of a pen?
Its unique function and shape will attract the attention of others.
This is a very original pen holder that combines functionality and design.
What are the characteristics?
1 This holder holds the pen in the air.
A magnet holds the pen in the air, making it easy to pick up and put back the pen.
The pen is kept in the air so even if the nib is out, it will not stain the desk.
2 This holder has a beauty like an object.
An elegant shape that smoothly connects to the pen support while changing the curvature from the ellipse of the golden ratio on the bottom.
The curved surface, which is not constant, changes reflections and shades depending on the position of the viewer, making the viewer never get bored.
Is there a variation?
Shape
There are 3 types: basic type 1, type 2 with large holes, type 3 with multiple small holes.
What is displayed here is type 3.
Color and surface
It is available in 10 glossy, 10 matte and 8 transparent colors.
It has a smooth surface except for the matte color.
For details, see the material description page.
What is displayed here is transparent.
This pen holder, which has a unique pen holding method and the grace that reminds me of an object, can only be purchased at my store.
Notes and Reference Information
The magnet is sold separately. Please choose a width of 7mm or less.
Attach the magnet to the range of the pen holder groove.
Thin double-sided tape is recommended for mounting the magnet.
A part with the magnetism is necessary for a pen.
When there is not magnetism, I recommend that I use the metal clips to a pen.
The grooves are made so that the pen can be held within a range of about 30 degrees from vertical (0deg).
In the photo, an 18g pen is supported by three magnets.
To remove the pen, push the lower of the pen forward and slide the pen downward.
Due to the light material, the holder will follow the pen when you pull it toward you or lift it up.
When returning the pen, point the metal part towards the magnet.
Adjust the number of magnets according to the weight of the pen.
When the pen is heavy, it is more effective to use two magnets in two rows than four magnets in one row.
Shouji
I started the proposal and creativity of miscellaneous goods. I will increase the goods you useful items. I am going to show the product first in the fourth week of September.