From Titanium to Rubber-like, Multicolor, Polyamide, 18K Gold and more, i.materialise has the material you're looking for. Using 10 different 3D printing technologies, 20 different materials, and over 100 possible color and finishing combinations, we offer only the highest quality to turn your ideas into 3D-printed reality.
Material Sample Kits

Material Sample Kits
For almost every material, color and finish we offer, you can easily access one of our sample kits. With so many options available to you, you first might want to see and touch the materials yourselves.
Buy a Material Sample Kit
How can we help you?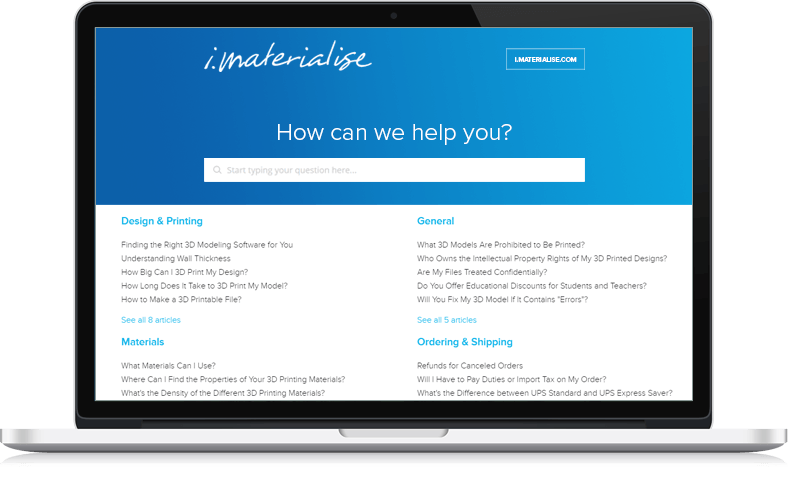 How can we help you?
Did you know that most of the questions we get each day can already be answered online? Just browse our Help Center for answers to the most common questions or read through our helpful articles. All of our 3D printing knowledge is right at your fingertips.
Visit our help center
Looking for Industrial-Grade Materials?
We want you to have access to as many 3D printing materials as possible, so you can make the best choice for your project. If you can't really find what you were looking for on i.materialise, you might want to take a look at Materialise OnSite, our other online 3D printing platform.
OnSite is mainly used by professionals who need rapid prototyping and manufacturing in an industrial environment and require industrial-grade materials like Agilus, PA-GF, Ultem 9085, ABS-ESD7, etc.
LEARN MORE