i.materialise offers services over API's in order to automate your operations. The set of API's is still limited but the goal is to extend it as the site grows. Below you find the list of currently offered services.
The Materials Catalog API
Retrieve the up to date list of materials and their properties by sending a request to the url below. As response, you will be able to download a structured file with the available materials. You are free to use that info on your own site.
The API is public, you just need to specify your registered email address at the end of the request:
http://i.materialise.com/web-api/materials?user=<your registered email address here>
The Upload API
i.materialise provides a simple API to allow websites to upload files to the 3D print lab.
The current API is not public. This means that it requires a valid identifier – called a tool ID - before the site will accept the uploaded files. In order to upload your models, you only require few lines of HTML code to foresee in your site:

    <html>
        <body>
            <form action="http://i.materialise.com/Upload?plugin=<YOUR TOOL ID>" 
                method="post" enctype="multipart/form-data">
            <input type="file" name="file" />
	        <input type="text" name="materialID" />
	        <input type="text" name="finishID" />
            <input type="submit" />
            </form>
        </body>
    </html>
            
After the file is uploaded to i.materialise, the site returns a link to the 3D printlab page. The link will be sent back in HTTP Response location header. Using this link tool has to open a new instance of a browser with model page.
The following pictured depicts interactions in case of desktop tool.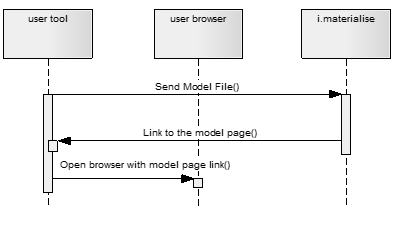 To receive <YOUR TOOL ID>, you should contact us at contact (@) i.materialise.com.
The tool ID will couple your login to the uploaded models. This will allow you to track the number of uploads and orders through your profile pages and to setup specific business needs if applicable.
FUTURE
We will be upgrading our simple api to a full blown webservice in 2013.