Did you like our sneak previews about the flexible material? Perfect. Now it's time for the real thing. Straight from the catwalk in our Periodic Table of Materials: enjoy our rubber-like material!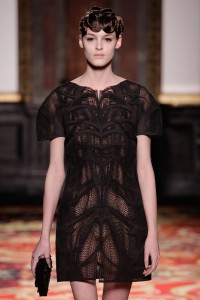 Do you remember the latest dress from Iris van Herpen together with Julia Koerner? After the fashion show, we were happy to announce to you we were doing tests to offer this material.
After two months we're putting this material on trial until Sunday 1st of September. During this trial period, which will last until September 1st, rubber-like will cost 2€ per cubic centimeter (plus a 5€ handling cost per model). For each extra copy of your model, the handling cost drops from 5€ to 3€ per design.
USE
Rubber like can be used for accessories, haute couture models, designs that need shock absorption, squeezable models, gadgets and functional designs.
BLACK
We've tested the material in its natural form, but we weren't satisfied with the look and quality of the surface. After some experiments we're happy with the results of black dye.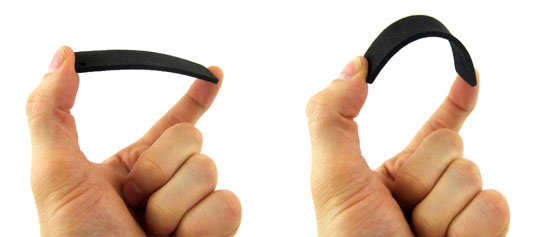 TIPS
We're really happy with this first real flexible material, but note that the material is not a strong as real rubber. The material is flexible, but of course the elasticity is limited and since the black dye is a post treatment you can't squeeze it a few thousand times.
There is one downside to Rubber-like: Unfortunately, at this time, we cannot sell or distribute objects made from this material in the United States. This restriction also means that our customers cannot import objects made from this material into the US. We are working to resolve this issue and will update you as additional information becomes available.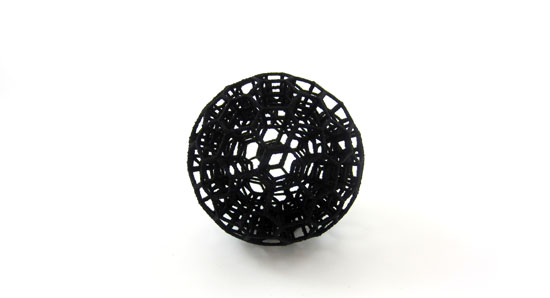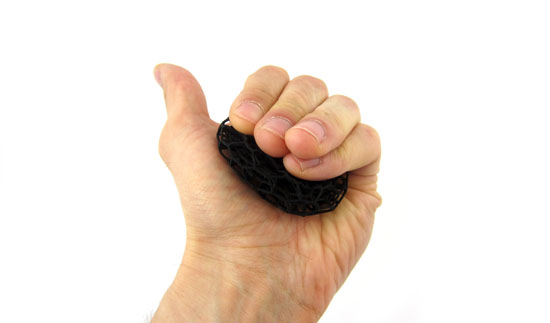 CHECK IT OUT: Can't wait to see and touch the material? Buy a sample! We can't wait to see your first prints :-).
For more pictures: check out our Facebook page!