THE CHALLENGE
For this challenge we'd like you to create your own crossbreed or hybrid using Autodesk Meshmixer software and i.materialise's 3D printing service.
PRIZES
We will select 3 winning creations. Winners will receive a 3D print of their figurine and an Autodesk 123D Premium Membership. All participants will get 10% discount when printing their design.

Note that the jury selects upon the 3D renders you put online, so send us very clear, visible render.
WHO CAN ENTER
This challenge is open to all designers, professional and amateur, regardless of sex, age or nationality.

CHALLENGE PERIOD
Submissions will be accepted up to 23:59 Central European Time, October 29, 2014.

HOW TO PARTICIPATE
There is no limit on the number of entries per contestant. To enter, upload your creation(s) below and provide a short description of your monster or crossbreed animal in the 'description' box. Be sure to use a screenshot from your creation in Meshmixer as your uploaded image. Entries without this screenshot are automatically disqualified. (Preferred size: 845x450 pixels)

JURY
i.materialise team
Jesse Harrington Au, Maker Advocate-Autodesk Inc.
DESIGN RULES
Material
The materials you can use for this challenge is Multicolor Gloss, a type of multicolor material in a smooth gloss finish. Check out this material here! To make sure your design is 3D printable, read about wall thickness and other details in our multicolor design guide.
Dimensions
Your creation should be able fit in a box with the maximum volume of 250cm3 ( x * y * z < 250cm³) for example 50 x 50 x 100 mm.
To check this, go to ANALYSIS => UNITS/SCALE. Put in the numbers.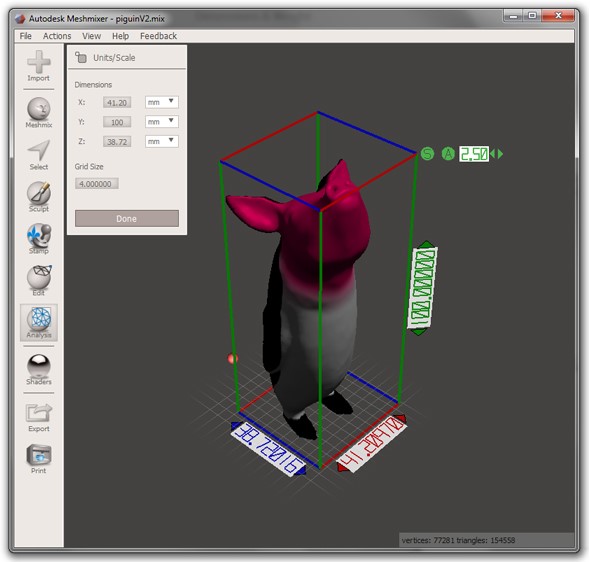 Your model or material volume should be less than 60 cm3.
This can be verified in "Stability," one of Meshmixer's Analysis tools.
With "Stability," you can also make sure that your creation has a stable base. This tool analyzes your model's center of mass to determine whether your figure can stand on its own. If the "center of mass" is visible above the base, then your model is stable.
You can also use Meshmixer to hollow out your model. Use the "Hollow" function in the "Edit" menu. We recommend to use an offset distance of 3mm. Hollowing can save you money on prints, and is also recommended for a good quality print.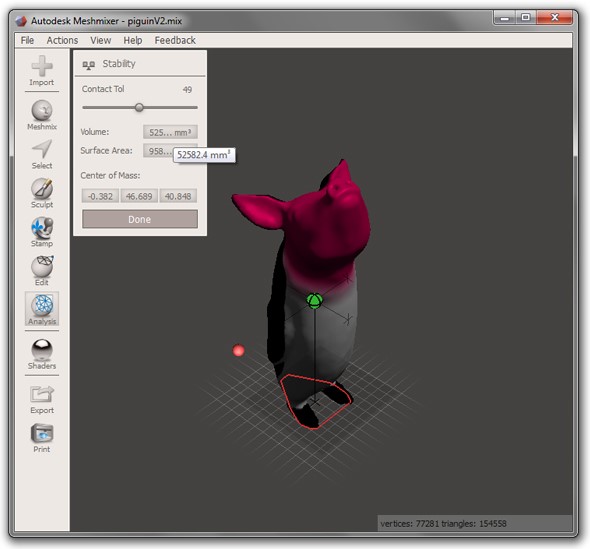 Finally, make sure your model is watertight or solid. You can use the Analysis tool called Inspector to check and fill holes if needed by using the different setting of the auto repair all button.
Software & File format
Software: All designs must be created on Autodesk's free Meshmixer software. This free software is can be downloaded on the Autodesk 123D website: http://www.123dapp.com/meshmixer.
File Format: .wrl. You can find this format in the export menu of Meshmixer.
GENERAL CONDITIONS
i.materialise's general terms & conditions apply to this challenge. For more information visit: http://i.materialise.com/legal/terms#challenge
All entries must be unique and never 3D printed before.
i.materialise reserves the right to amend these rules at any time. Any amendment to competition rules will be posted on the i.materialise website.
Prizes must be accepted as awarded. No cash alternatives or substitutes will be allowed. The decision of the jury will be final.