by RHPrime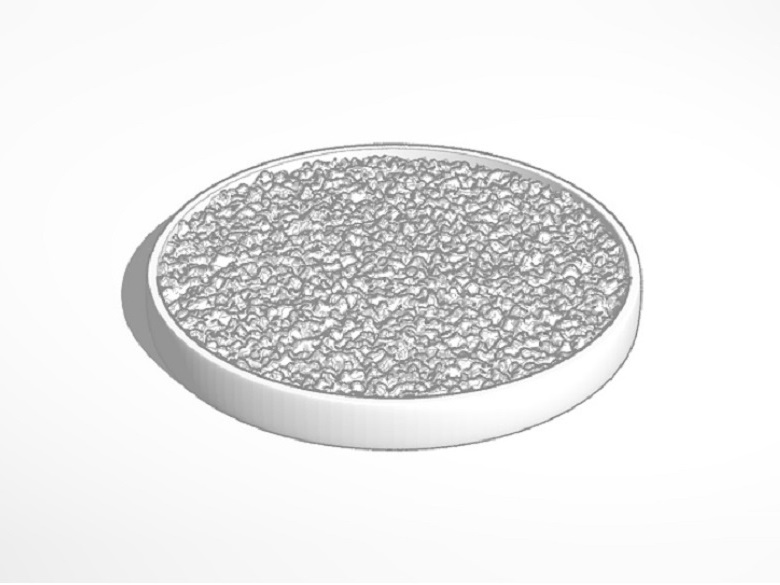 rough display render image (top)
Description
A small display base to showcase a figurine character or other small objects of interest. It has a mathematically generated rough surface slightly inset from the top of the base. Great for displaying objects or creatures that would benefit from a rough display base such as insects or alien creatures.

This part is designed to be able to contain a properly sized cork or equivalent material disk insert in its bottom cavity as a cushioning/anti-skid element. The cork may be held in place using silicone glue if necessary. The cork disk should be approximately 3.875 inches in diameter with a thickness of 0.25 inches. Properly sized cork disk inserts may be acquired from the following source:

Craft Supplies USA Turners Select Cork Coaster Insert
Note that the cork inserts from this source will also be held in place due to the friction of a snug fit, but glue may be used if desired for a more secure fit. If the cork insert fit is extremely tight you can lightly sand the edges to reduce the diameter of the cork prior to insertion. If the fit is very tight the cork may bulge outwards after being inserted but I've found that compressing the assembly between a flat table top and a heavy book overnight will compress the cork after which it will fit well and remain flat when not using any glue.

Display a prized something-or-other or create a small diorama!
RHPrime