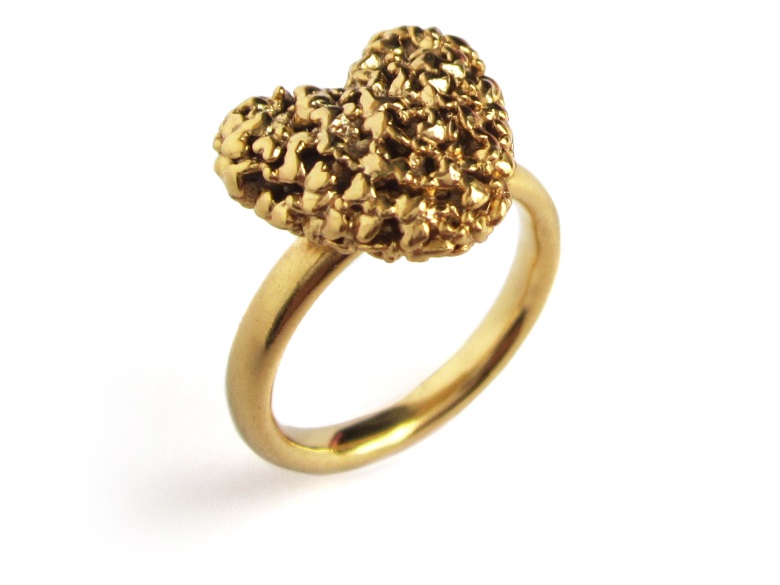 365 Hearts Ring Medium gold plated

Description
365 Hearts Ring - Small
One heart created by 365 smaller hearts. The unique design symbolizes the many little things you appreciate and hence love a person for.
You can see the love grow in this animation. The 365 hearts also represent the 365 days in a year. Love and time merge in harmony in this meaningful design. Imagine with this jewel you could for example:
• give 365 valentine kisses.
• celebrate the many special moments together.
• gift a year of love and friendship
• wear eternal love.
The unique 365 Hearts Design can only be made combining the state-of-the-art 3D printing technique with the classical 'lost wax process'. Available in precious metals like silver and gold.
Available in US sizes: 5,6,7,8,9, and 10. A helpful ring size conversion site can be found here.
To order, mail contact@i.materialise.com and mention the desired ring name and size.
'The 365 Hearts Design is my way of creating a tender three dimensional poet', Marc van Megen
Please feel free to contact me if you have any questions on the product: info@vanmegenproductdesign.com
Marc van Megen
Marc van Megen is a Dutch designer with a passion for creation. Active in 3D printing, sculpting bronze statues and innovative industrial design.