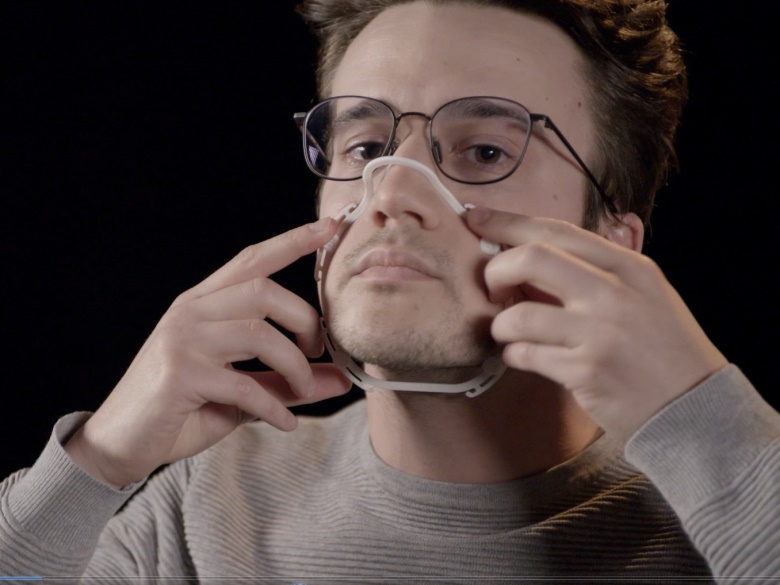 Description
FFP2 masks provide good protection for the wearer, but need to be well-fitted in order to prevent leaks. The Materialise Mask Fitter is an accessory that can be used in combination with FFP2 masks to ensure a good face fit without leaks. This means breathing may become a bit heavier, but that is actually a good sign that it offers better protection.
The Mask Fitter should be the same size as the distance between the bridge of your nose and your chin. It goes over the mask and is fixed in place with elastic straps. For instructions on how to wear your FFP2 mask with the Mask Fitter, please watch this video, or read the instructions.
This product comes in a set of 20 mask fitters of different sizes (8 x Small, 8 x Medium, 3 x Large, and 1 x Extra Large). It also includes elastic straps that allow you to attach the Mask Fitter to the mask. Please ensure you choose the correct size or the Mask Fitter will not function properly.
These FFP2 Mask Fitters are part of Materialise's response to the COVID-19 pandemic. Learn more here: Preventative devices
Ships within 3 working days. The estimated shipment date shown at the checkout may not always reflect this lead time.
For larger volumes and special requests, please contact us.
Materialise NV
Materialise incorporates three decades of 3D printing experience into a range of software solutions and 3D printing services, which together form the backbone of the 3D printing industry. Materialise's open and flexible solutions have enabled players in a wide variety of industries, including healthcare, automotive, aerospace, art and design, and consumer goods, to build innovative 3D printing applications that aim to make the world a better and healthier place. Headquartered in Belgium, with branches worldwide, Materialise combines the largest group of software developers in the industry with one of the most complete 3D printing facilities in the world.