General Guidelines
Wall Thickness


In 3D printing, wall thickness refers to the distance between one surface of your model and the opposite sheer surface. Because of the fragile "green state" that your model goes through when printing in high-detail stainless steel, it's important to make sure your model is structurally sound. Also note that, even with the recommended wall thickness, your model should not have any overhangs or "limbs" sticking out, as these can collapse under their own weight.
In the table below, you can see the minimum wall thickness needed per area size. Horizontal walls are parallel with the base of the printer bed, while vertical walls are perpendicular to the base of the printer bed. If your design doesn't have an obvious base, use the values for the horizontal wall for all of the walls, just to be on the safe side.
Vertical Walls
Horizontal Walls
Minimum Thickness [mm]
Area [mm2]
Minimum Thickness [mm]
Area [mm2]
A ground plane surface can be thinner than a hanging ceiling surface because it is supported by the sintering plate that it stands on. Therefore, in most cases, ground plates don't need to be thicker than 1 mm.
For the maximum wall thickness, we recommend you stay below 10 mm.
Finally, with regards to wall thickness, it is better to have even wall thicknesses and gradual transitions in your design. Areas that have different thicknesses will heat (expand) and cool (contract) at different rates during and after the sintering process. Therefore, wall thickness is better kept as uniform as possible to minimize the chance of cracking during this stage of the process.
Detail Size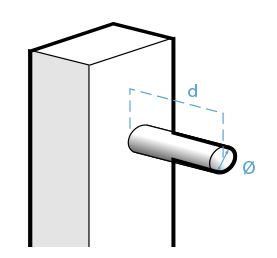 Minimum Ø [mm]
Depth D [mm]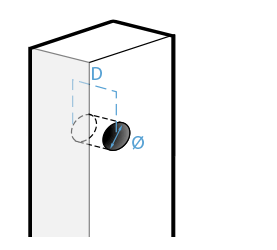 Minimum Ø [mm]
Depth D [mm]
During the production process, your model will reach a "green state" in which it's very fragile. In order to ensure your final model retains its original design, it's very important that details are of sufficient size so they don't get altered or lost. Take a look at the scheme above to get an idea of the size requirements for embossed and engraved details. Depending on the diameter, the length can be larger or vice versa.
Holes that pierce through your design should follow the indicated values below.
Minimum Ø [mm]
Depth D [mm]
Geometry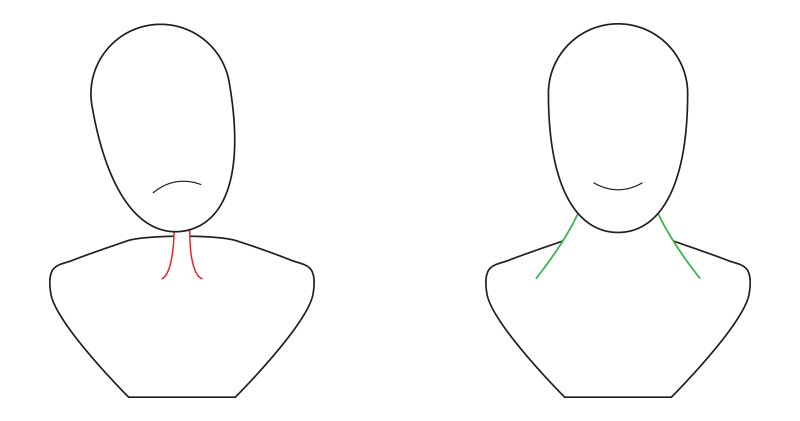 Your design needs a "backbone" so it can be handled without bending or breaking in its green state. This backbone has to be in the same range as the embossed detail size. A backbone generally consists of a framework of beams to support your design.
Bulky geometries connected to thin structures (like a big head on a slim neck) could bend from the weight during the sintering process. Your model needs to be designed to adequately support itself because this process doesn't allow the construction of a removable support structure. Thicker/larger parts should never be connected by thinner sections.
Deformation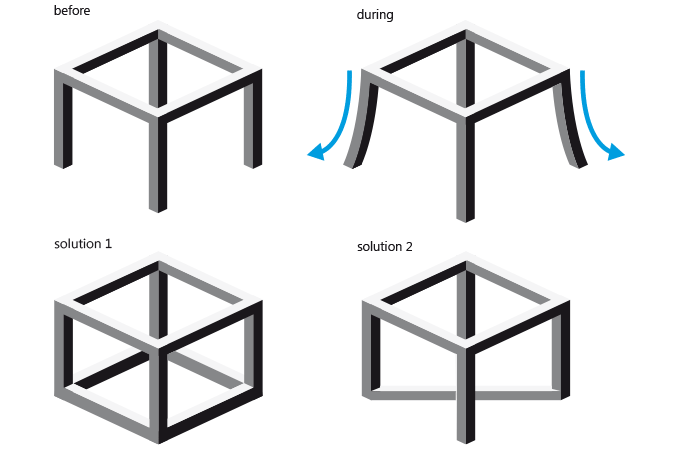 Your design needs to have a firm base so it can be sintered without being deformed. Your model will shrink considerably during the sintering process. If there is too much friction against the ceramic plate it is standing on, the model will deform against it. This is sometimes referred to as the component getting an "elephant foot" because it ends up getting wider at the bottom. For example, you can see a chair with four legs, sintered standing upright. During the sintering process, the top of the chair shrinks and the legs bend outwards from the friction against the plate they're standing on. If the legs are connected together as shown in the examples above, this friction can be avoided and the legs will shrink in proportion with the rest of the piece.
Dimensional Accuracy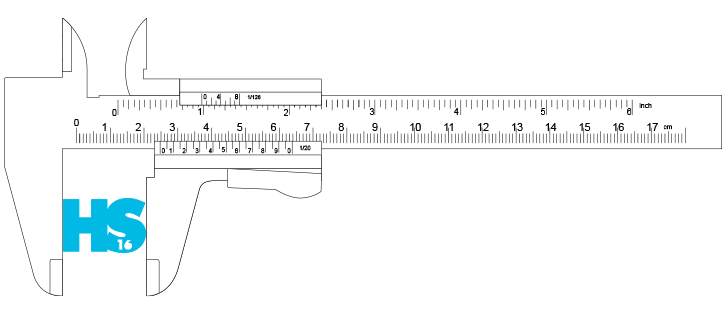 Dimensional accuracy doesn't relate to the detail of your model but to the deviation from the nominal size. Models have a tendency to deform because of gravitational effects during the sintering process. The better the models can support themselves, the better their dimensions will stay intact. With high-detail stainless steel, dimensional accuracy is generally better than 2% for outer dimensions, however, it's not guaranteed. We can print threads, holes/nuts, and corresponding bolts, but they have to be printed separately to work. We can generally print M6 threads and larger. We can also print smaller threads such as M4, but with the reservation that calibration/cleanup with a tap may be necessary to get a good working thread. In order to design parts that shall fit together, there shall be a clearance of at least 5% of the nominal size and a minimum of 300µm. There are still no guarantees that parts will fit together without secondary operations.
Hollow out Your Model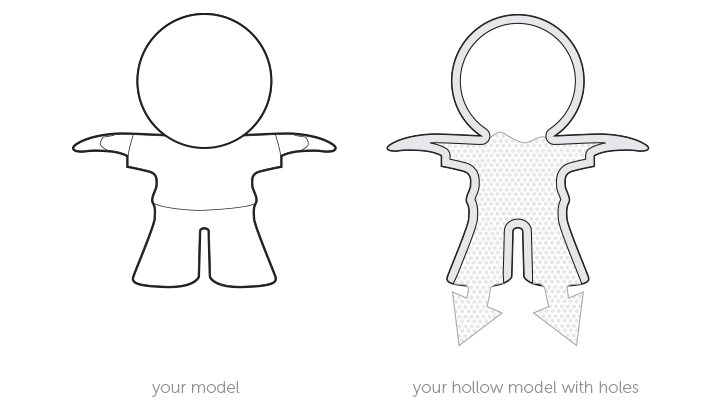 Hollow models are possible with high-detail stainless steel but keep in mind that you need to incorporate a hole so we can get rid of the sintered powder. We recommend a hole with a diameter of 3 mm for models less than 10 x 10 x 10 mm and 5 mm for larger models.
Nested Objects, Hinged and Interlinking Parts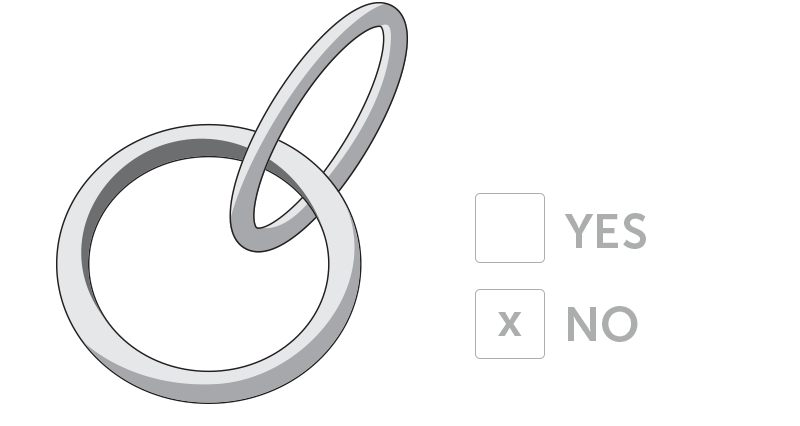 Special designs can be made but there is always a risk of parts sintering together. There is also a risk of deformation during sintering if the parts are not well supported. Ideally, your model should be self-supporting in design. The minimum clearance should be at least 1 mm.
Engraved Text and Surface Details


For engraved text or surface details, we recommend letters with a minimum line thickness of 0.2 mm, a minimum overall height of 1 mm, and a minimum depth of 0.5 mm. For embossed text or surface details, we recommend that letters have a line thickness of at least 0.2 mm, an overall height of at least 1 mm, and a depth of at least 0.2 mm.
Guidelines for Polished Models
Polishing, also referred to as mechanical smoothing, is a special finishing process for high-detail stainless steel. In order to achieve a polished finish, your model is put into different tumblers with small stones that vibrate at a high frequency to smooth the surface of your model.
Only the Strong Survive


Several factors make it hard to fully predict the outcome of the polishing process. One of these is the geometry of your model, which can act differently each time it is put in the tumbling machine. Overall, models with sharp edges will either flatten or break off in the tumbler. Polishing is not advised when your model has tiny details like pins because they will break off during the polishing process. Even though we will alert you when a polishing issue might occur, our production team can refuse to polish models if the risk of breakage is too high. In that case, you'll receive an unpolished version of your model.
Polishing on the Inside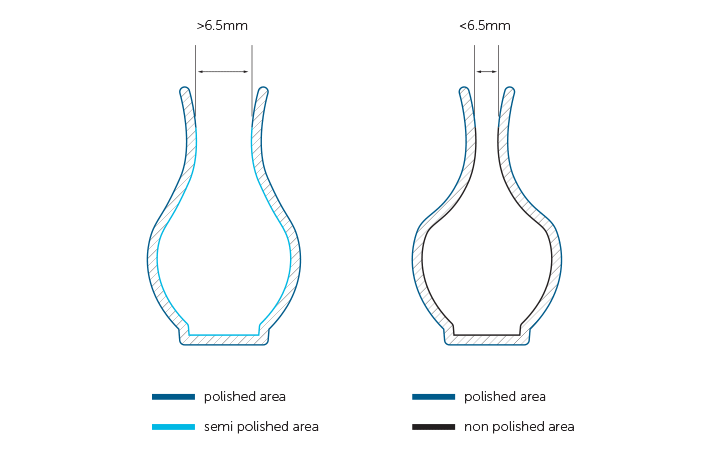 Small polishing stones are used to make the surface of your model smoother. Because of the size of the stones, they can easily get stuck inside small holes. Therefore, we recommend that any openings that need polishing be larger than 10 mm in diameter. This helps avoid the problem of stones getting stuck inside your model. Please note that generally the inside of your model won't be polished using this method if it is too small for the stones to enter.
Polishing stones can also easily get stuck inside V-shaped grooves. Our production team will try their best to remove the stones, but in some cases, they may not all be removed.
Rounded Edges


If your model contains sharp edges, they will be rounded off. Rounded corners and smooth transitions between surfaces will have a better polish than sharp edges.
Color


If an area of your design is recessed or covered (e.g., an engraved area), it may be darker in your final part. This happens when the area is so small that the polishing stones cannot reach inside.
Design Specifications
Minimum Wall Thickness
0.3 mm