Join our wood-challenge: Submit your design and get it 3D printed in wood!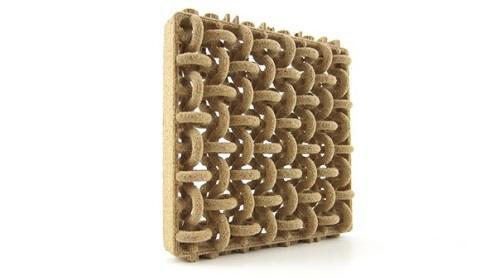 THE CHALLENGE
For this challenge we'd like you to submit your design that you would like us to print in wood.
PRIZES
We will select 5 winning creations. Winners will receive a 3D print of their submission in wood.
Note that the jury selects upon the 3D renders you put online, so send us very clear, visible renders.
WHO CAN ENTER
This challenge is open to all designers, professional and amateur, regardless of sex, age or nationality.
MAXIMUM MODEL VOLUME
For this challenge we ask you to model a design with a maximim volume of 35,000 mm3 (35 cm3).

CHALLENGE PERIOD
Submissions will be accepted up to 23:59 Central European Time, June 14, 2015.

HOW TO PARTICIPATE
There is no limit on the number of entries per contestant. To enter, upload your creation(s) below and provide a short description of your submission in the 'description' box. Be sure to use a screenshot from your creation as your uploaded image. Entries without this screenshot are automatically disqualified. (Preferred size: 845x450 pixels)

JURY
The i.materialise team will pick 5 lucky winners.
DESIGN RULES & GUIDELINES FOR WOOD
Here are some basic rules, tips, and tricks to design a printable model in Wood:
Minimum Wall Thickness: 3 mm
In 3D Printing, wall thickness refers to the distance between one surface of your model and the opposite sheer surface. Wall thickness can either provide you with a strong solid surface, or with a flexible and expandable surface. A good example of when creating thin surface walls is ideal is when designing a spiral that needs some suspension properties. This makes your design light and flexible. The opposite effect can be achieved by making your surface walls thicker. This would be ideal for a more solid spiral-inspired flower vase.

Hollow out Your Model
If possible, try to hollow out your model. This avoids deformation during the printing process. When selecting this option, you need to foresee at least one hole with diameter of at least 15mm in your model so the wood powder trapped on the inside can be easily removed after printing. We recommend that you create several holes so that the removal process can happen even more efficiently.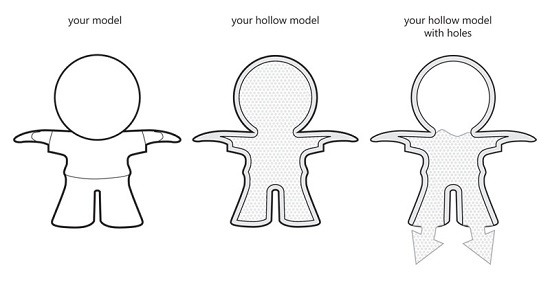 The Right Space between Your (Moving) Parts
When you want to design something like a pearl or chainmail necklace, the spacing between your surfaces is crucial. It will determine the flexibility/bendability of your design. We advise you to keep a minimum space of 0.5 mm between designed surfaces. The more space you can afford the better.
The more complex your design, the more complicated it becomes for the powder to free itself from the empty spaces. Try to think of how the powder will flow through the spaces of your 3D Printed design.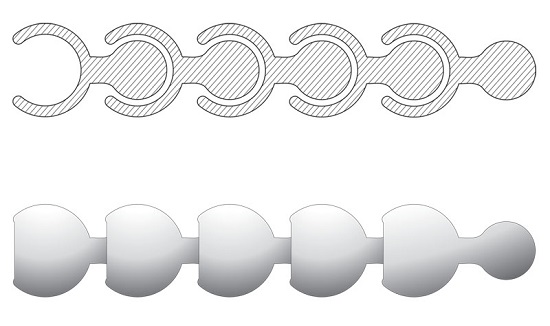 When you design something like chainmail, make sure you provide enough space between the rings in your 3D model. It allows the powder between the rings to flow away when the model is taken out of the 3D Printer.
At least 0.5 mm of space should be kept between the rings - it can always be more. The space you create between your rings will purely depend on their size. With big rings, you can create a lot of space so you can print more of them in a confined area. With small rings, you will have to limit your space to keep a distance between the opposite horizontal or vertical ring in the chain.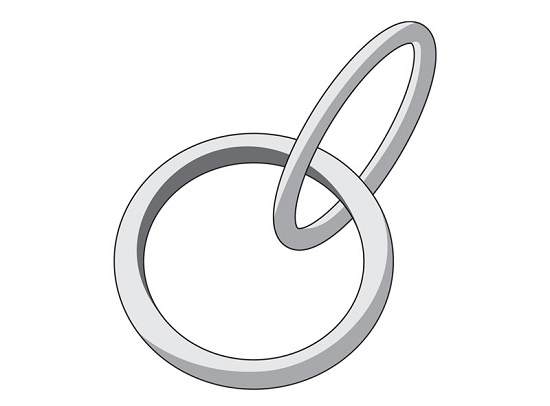 Assembly
When designing models that need to be assembled, it's important to provide enough distance between the parts that will be attached together. A perfect fit in your software package does not mean a perfect fit after printing because your software ignores the friction present in the real world. Therefore, always leave at least 0.6 mm between the different parts.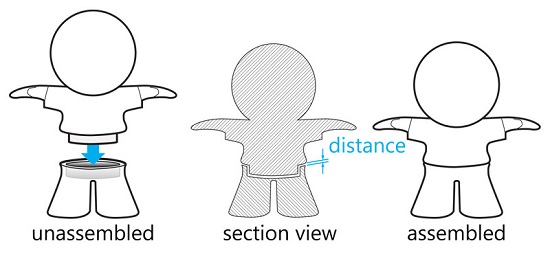 Embossed and Engraved Details
For engraved text or surface details, we recommend letters with a minimum line thickness of 1.5 mm, a depth of 1.5 mm, and an overall height of at least 6 mm. Embossed text or surface details should be thick enough that they will not break during production or transport. We recommend letters that have a line thickness of at least 1.5 mm, an overall height of at least 6 mm, and a depth of at least 1.5 mm.

GENERAL CONDITIONS
i.materialise's general terms & conditions apply to this challenge. For more information visit: http://i.materialise.com/legal/terms#challenge
All entries must be unique and never 3D printed before.
i.materialise reserves the right to amend these rules at any time. Any amendment to competition rules will be posted on the i.materialise website.
Prizes must be accepted as awarded. No cash alternatives or substitutes will be allowed. The decision of the jury will be final.