Once more, designers are pushing the boundaries of photograpy, film and technology. Simon de Bakker and Jon Stam designed their 'Bioscope' during the V2_ SummerSessions and 3D printed it at i.materialise: a digital movie viewer in the shape of a Fisherprice camera.
Designers often use 3D printing for accessories and interior design, but another market is reaching 3D printing more and more: the one with digital gadgets like the Bioscope. You look through the 'lens' and then, by turning the red wheel back or forth, you can see your home movie frame by frame which creates a very retro like effect.
USB STICK
Jon Stam: "For this project, I wanted to recreate the magical experience of those old projectors but adjusted to our modern times by using movies on USB sticks. The Bioscope is interactive and allows the user to move through time with the turn of the crank. Moving forward and backward, as fast as slow as you want. You're invited to pause at your favorite moments and reflect. This way people get manual control over digital information and it allows them to transform every viewing into something entirely new and personal."
CUSTOMIZE
Through traditional manufacturing it was hard to bring this idea to life, so Jon Stam and Simon de Bakker decided to try 3D printing: "We were thinking about how we could take old technology and adapt it for the modern world. Going to the traditional manufacturing route of making a mold and going into full production was not only too expensive, but it also made it impossible to customize the Bioscopes the way we wanted."
"Luckily, there is 3D Printing. By using this technology, we could create the bioscope digitally and together with i.materialise, repair any errors in the file and find the best material and printing technique to bring the bioscope to life in polyamide. Quick and affordable. Plus, when I am not completely satisfied with how the bioscope feels – not a problem. I change the digital file, contact i.materialise, and presto…a new and improved Bioscope!"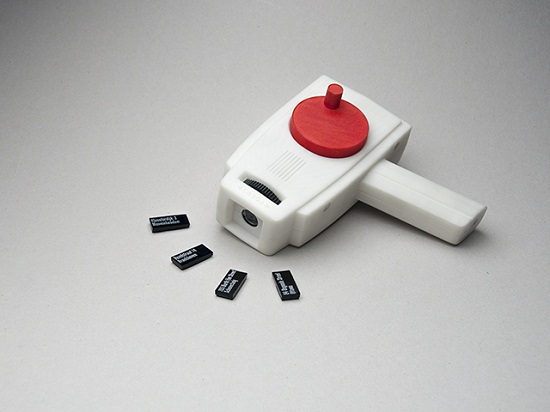 Remember: We will be showcasing the Bioscope at the 3D Printshow in London this weekend from the 19th until the 21st of October. Find us at booth K21, King George's Room or join our workshops!